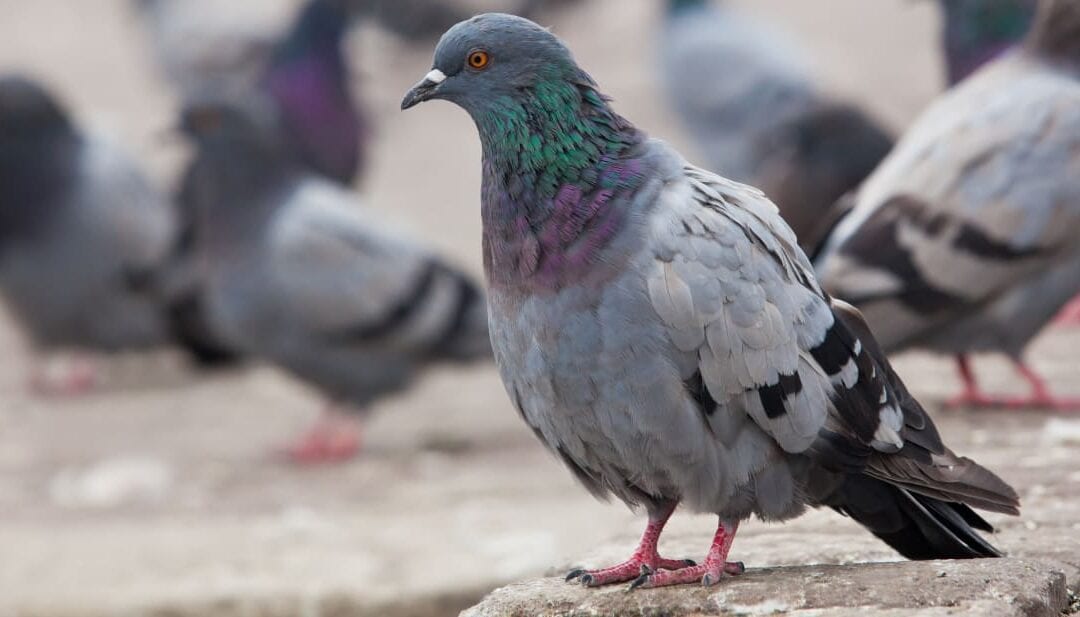 Sound Deterrent For Birds
Ultrasonic pigeon & bird scarers are electronic devices that produce high pitch emissions known as ultrasound. Ultrasonic pigeon & bird scaring systems have been introduced into the pest control marketplace due to the fact that ultrasound is too high-pitched for human hearing but falls within the hearing range of most species of birds. Most sonic bird scaring devices produce a sound that is audible to the human ear and therefore may cause human disturbance if used in an area of human habitation.
Pest birds can quickly become a costly problem to property owners and managers. The birds will gather in increasingly large flocks to deface and damage property and equipment. Lethal means of bird control—poisons, pellet guns and inhumane traps—are illegal in many areas, since many birds are protected by law. Today's advanced sound bird deterrents can be highly effective as a humane way to deter pest birds.
How It Works
Ultrasonic repellents work differently than other deterrents. They use high frequencies (which the human ear cannot hear) to deter birds and other pests. When the birds or pests hear the sound being produced, they become disoriented or irritated by the noise. Birds also quickly learn to avoid areas where they have felt the ultrasonic sound waves
There are many ultrasonic devices to choose from depending on the coverage you need. Typically, they are able to cover up to 3,600 sq. ft. With multiple speakers, you can customize coverage for even larger areas.
Distress & Predator Calls Intimidate Birds
Many types of birds such as pigeons and seagulls have a specific "distress call." Birds will emit these sounds only when they are attacked by a predator. Sound bird deterrents intimidate pest birds by broadcasting these prerecorded distress and predator calls. The devices have been scientifically designed to fully exploit a bird's natural alertness and sensitive hearing—hearing that's similar to humans. Social and aggressive birds that communicate verbally within colonies will often fly towards theses distress calls to see if they can mob the predator and come to the aid of their fellow bird. When the calls temporarily cease and no predator is found, the arriving birds are frightened by the possible danger and disperse.
The Sounds Bird Hear
Sound bird deterrents operate within the normal hearing range of most birds—about 1 to 4 kHz—although birds can hear higher and lower frequencies to a limit of 20 kHz. Unlike the ultrasonic sounds emitted by some high frequency "bird deterrents," the sounds emitted by sound bird deterrents resemble normal birdcalls to the human ear, which is why they won't annoy pets or neighbors—only birds.
Programmable Output
Birds, like people, can get accustomed to sounds, even those they may initially perceive as threatening. This is why the best sound bird deterrents can be programmed to emit threatening birdcalls for several minutes, stop and then repeat the sequence every 10 minutes. These devices will also feature a volume control that allows the sound intensity of birdcalls to be adjusted—from 65-105 decibels.
Different Sounds for Different Birds
The best sound bird deterrents will have the flexibility to broadcast distress and predator calls for as many as 24 different types of birds. These systems allow users to target a specific bird or all birds. Such systems can even be programmed to turn on and off automatically. They will also allow additional speakers to be added to extend the effective deterrent range from one acre to five acres. source
Pigeon Patrol Products & Services is the leading manufacturer and distributor of bird deterrent (control) products in Canada. Pigeon Patrol products have solved pest bird problems in industrial, commercial, and residential settings since 2000, by using safe and humane bird deterrents with only bird and animal friendly solutions. At Pigeon Patrol, we manufacture and offer a variety of bird deterrents, ranging from Ultra-flex Bird Spikes with UV protection, Bird Netting, 4-S Gel and the best Ultrasonic and audible sound devices on the market today.
Contact us at 1- 877– 4– NO-BIRD, (604) 585-9279 or visit our website at www.pigeonpatrol.ca
Pigeon / Pigeon Patrol / Pigeons Roosting / Vancouver Pigeon Patrol / Bird Control / Surrey Pigeon Control / Pest /
Sound Deterrent For Birds
Vancouver Pigeon Blog / Birds Inside Home / Pigeons in the cities / Ice Pigeons/  What to do about pigeons/ most common types of sparrows , Damages Caused by Sparrows, How To Keep Raccoons Away,  Why Are Raccoons Considered Pests?de-fence, Pigeon Nesting and Breeding Patterns and Behavior What Do I Do With a Bird Trapped in My Wall? Professional Bird Control Company Keep The Birds Away From Your Business Why Are Raccoons Considered Pests? Sound Deterrent For Birds