An Aerial view The City's downtown core in Regina, SK. on Thursday, August 22, 2013. Salthaven West director of rehabilitation, Megan Lawrence, believes some downtown businesses may be putting out poison to deter pigeons. Several Regina pest control companies contacted by the Leader-Post said they do offer Avitrol, but it can only be administered in commercial and industrial areas and isn't for retail sale. A trained pest control employee must administer it.
Instead of poison, Lawrence recommends removing structures where pigeons could roost and screen off air conditioning units where they might drink water from. Bristling wires, which prevent pigeons from landing, can also be purchased from a pest control retailer and installed."If they're up on the roof and you start seeing them build nest, remove all nesting materials," she said. "The more times that happens they're going to realize this isn't a place (they can) nest."
Saskatoon woman says people may be using neurotoxin to poison local pigeons
A Saskatoon woman who helps restore injured birds to health is calling on the City of Saskatoon to help curb a trend she says concerns her. Jan Shadick runs Living Sky Wildlife Rehabilitation. She says that since Jan. 1, people have called her about 35 dead pigeons.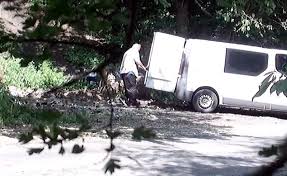 Rate of 'kidnapped' baby hares a concern in Saskatoon Based on the symptoms described, Shadick says she "strongly suspects" most of those birds were poisoned.
"The pigeons are convulsing. They're having seizures," she said. "One woman contacted me about a dead pigeon in her yard. I think it was in a flower pot and she was concerned because her dog goes out in the yard." "It's an animal. It's a life. And I don't think it should suffer," said Shadick. (Guy Quenneville/CBC) Shadick said she believes a particular neurotoxin used to repel birds is to blame. In a public letter to city councillors, she said Saskatoon Light and Power has used that neurotoxin in the past. Brendan Lemke, the acting director of Saskatoon Light and Power, said, "SL&P does not use poison to kill pigeons in or around its substations. "It has, in the past and consistent with best practices, retained the expertise of pest control experts which have used widely accepted chemical repellents for pigeon control, but SL&P has not used those products or services since 2017."  Shadick wants the city to ban use of the product by anyone in the city.
"It's an animal. It's a life. And I don't think it should suffer," Shadick said Thursday as she grasped a dead pigeon wrapped in a plastic baggie.
Saskatchewan's Ministry of Environment said it has not granted a permit for the use of the neurotoxin and would only do so "in exceptional circumstances."
About Pigeon Patrol:
Pigeon Patrol Products & Services is the leading manufacturer and distributor of bird deterrent (control) products in Canada. Pigeon Patrol products have solved pest bird problems in industrial, commercial, and residential settings since 2000, by using safe and humane bird deterrents with only bird and animal friendly solutions. At Pigeon Patrol, we manufacture and offer a variety of bird deterrents, ranging from Ultra-flex Bird Spikes with UV protection, Bird Netting, 4-S Gel and the best Ultrasonic and audible sound devices on the market today.
Contact us at 1- 877– 4– NO-BIRD, (604) 585-9279 or visit our website at www.pigeonpatrol.ca
Bird Gone, Pigeon Gone, Seagull Gone, Pigeon problems, pigeon spikes, 1-877-4NO-BIRD, 4-S Gel, Bird Control, Pigeon Control, bird repellent, Bird Spikes, sonic bird repellent, stainless steel bird spikes, bird spikes Vancouver, Ultra Sonic Bird Control, Bird Netting, Plastic Bird Spikes, Canada bird spike deterrents, Pigeon Pests, B Gone Pigeon, Pigeon Patrol, pest controller, pest control operator, pest control technician, Pigeon Control Products, humane pigeon spikes, pigeon deterrents, pigeon traps, Pigeon repellents, Sound & Laser Deterrents, wildlife control, raccoon, skunk, squirrel deterrent, De-Fence Spikes, Dragons Den, Canada bird spikes, Canada pigeon, pigeon control, pidgon patrol, pidgon. Kill pigeons, crow, starling