Forbes recused herself from the vote because of a conflict of interest. Before being elected, she had made several complaints to staff about the pigeons and said they had damaged her lawn, and in 2017 spoke at a public hearing and said they could impact her property values.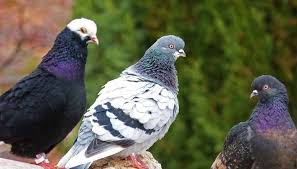 But according to Freedom of Information documents, after Forbes was elected — but before she was officially sworn in — she sent an email to city staff complaining about the situation and asking for action. In recent months she also exchanged emails with the councillor who put forward the pigeon ban motion about the situation.
In praise of pigeons: Enthusiast chirps the praises of 'troublesome' birdThe new information has prompted the two councillors who voted against the ban to ask for a reconsideration — which would require a request from either Mike Little or one of the three councillors who voted in favour of it.
"There was clearly some background information we didn't know," said Jordan Back."I'd like to have a better understanding as to why [Forbes] thought it was OK to use her position to bring forward a personal matter. I don't think it's appropriate, and I think we've heard widespread feedback from the community that they don't think it's appropriate."
Forbes has ultimately declined multiple requests for an interview by CBC News, but through a spokesperson indicated she would make a statement at Monday's council meeting and speak to the media afterwards.As for Hassko? He says he'll also be at Monday's meeting, with a clear message for the district.
"Something does smell fowl here, and it's not the pigeons."
About Pigeon Patrol:
Pigeon Patrol Products & Services is the leading manufacturer and distributor of bird deterrent (control) products in Canada. Pigeon Patrol products have solved pest bird problems in industrial, commercial, and residential settings since 2000, by using safe and humane bird deterrents with only bird and animal friendly solutions. At Pigeon Patrol, we manufacture and offer a variety of bird deterrents, ranging from Ultra-flex Bird Spikes with UV protection, Bird Netting, 4-S Gel and the best Ultrasonic and audible sound devices on the market today.
Contact us at 1- 877– 4– NO-BIRD, (604) 585-9279 or visit our website at www.pigeonpatrol.ca
Bird Gone, Pigeon Gone, Seagull Gone, Pigeon problems, pigeon spikes, 1-877-4NO-BIRD, 4-S Gel, Bird Control, Pigeon Control, bird repellent, Bird Spikes, sonic bird repellent, stainless steel bird spikes, bird spikes Vancouver, Ultra Sonic Bird Control, Bird Netting, Plastic Bird Spikes, Canada bird spike deterrents, Pigeon Pests, B Gone Pigeon, Pigeon Patrol, pest controller, pest control operator, pest control technician, Pigeon Control Products, humane pigeon spikes, pigeon deterrents, pigeon traps, Pigeon repellents, Sound & Laser Deterrents, wildlife control, raccoon, skunk, squirrel deterrent, De-Fence Spikes, Dragons Den, Canada bird spikes, Canada pigeon, pigeon control, pidgon patrol, pidgon. Kill pigeons, crow, starling