Bird Netting
High performance three quarter inch (3/4″) hexagonal mesh bird netting. Strongly woven polypropylene netting, with a 75 pound breakage threshold. This durable netting is ideal for protecting residential and commercial properties from many birds.
The mesh is woven from multiple interlocking strands of black polypropylene. This mesh will stretch and adjust to many dimensions. Simple to install using staples, traps, fasteners or hog rings. This netting will not rust and is resistant to mold and mildew.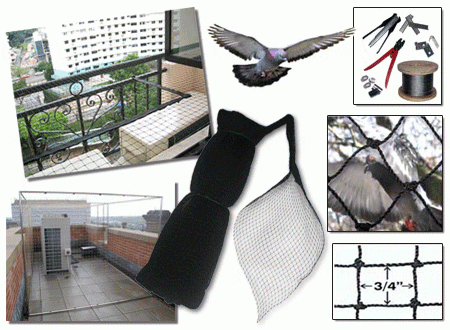 The polypropylene is UV stabilized for protection from the sun and is tightly woven for extreme cold weather protection. It's flexible and designed to give you the best protection against small animals and birds.
Bird netting can be used for the following enclosures:
Eaves & Overhangs
Dormers
Awnings
Complex Surfaces
Wall Openings
Rooftop Utility Equipment