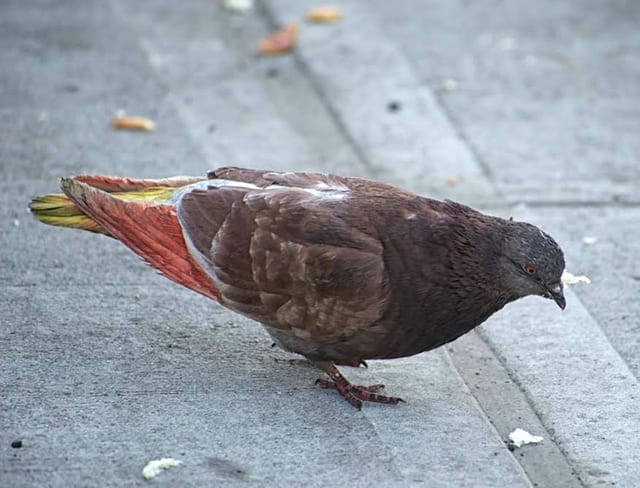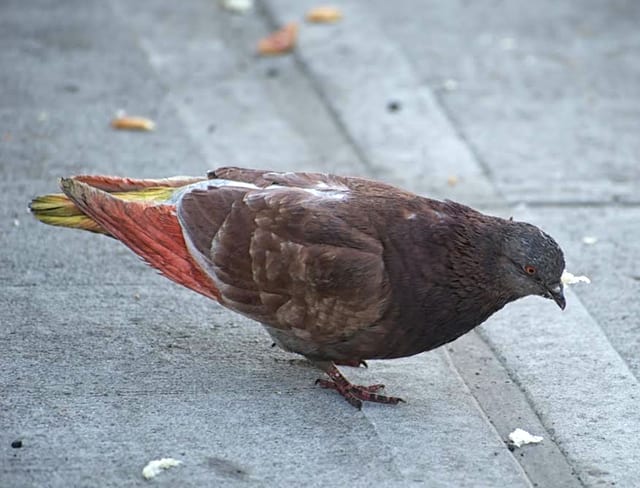 A MYSTERY pink pigeon has been spied in Breightmet.
The bird, which has pink and white plumage, but still has a normal grey head, was spied on a rooftop in Breightmet earlier this morning.
There is a breed of bird called a pink pigeon — called nesoenas mayeri which are native to Mauritius — but these are very rare and normally such a paler shade of pink they are almost white.
David Taylor managed to photograph the unusual bird in Tetbury Drive at about 8am on June 20 and said: "I was having breakfast this morning and saw this red and white pigeon on top of a neighbour's roof.
"When I went out it was gone but then 15 minutes later I spotted it on a neighbour's roof.
"I don't know why it's that colour, I thought someone had painted it.
Jackie Fish, who also from Tetbury Drive, thought someone had spray painted the bird in the colours of the St George flag.
She spotted it at 7.15pm on June 19, 45 minutes before England kicked off their crucial World Cup match with Uruguay.
She said: "I just saw it there and realised it had been painted white and red, to look like the England flag.
"I have to say as supporting England goes, this is a bit too much and I would class it as cruelty and a bit beyond a joke."
Gemma Pidluski also reported seeing the bird on June 19 and said on Facebook: "I have just been sitting at home and a pink pigeon has landed on my shed roof. Is it real?
"I have googled it and sure enough there are pink pigeons! Bit of nice news for a change!"
A similar bird was spotted in Ealing, West London in August, 2012 and experts were at a loss to identify it.
About Pigeon Patrol:
Pigeon Patrol Products & Services is the leading manufacturer and distributor of bird deterrent (control) products in Canada. Pigeon Patrol products have solved pest bird problems in industrial, commercial, and residential settings since 2000, by using safe and humane bird deterrents with only bird and animal friendly solutions. At Pigeon Patrol, we manufacture and offer a variety of bird deterrents, ranging from Ultra-flex Bird Spikes with UV protection, Bird Netting, 4-S Gel and the best Ultrasonic and audible sound devices on the market today.
Voted Best Canadian wholesaler for Bird Deterrent products six years in a row.
Contact Info: 1- 877– 4– NO-BIRD (www.pigeonpatrol.ca)