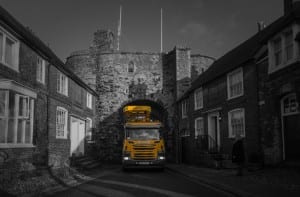 Pigeons have been steady residents of Copenhagen City Hall's tower for over 100 years, but that has now come to a sad end.
Pigeons have made their home in Copenhagen City Hall's tower since 1905, but on Tuesday the current flock of around 120 pigeons living in the seat of local government were euthanized after contracting psittacosis, an infection spread through bird droppings.
"There have been pigeons since the City Hall was completed and we have always been proud of that. This is absolutely not something we are happy about," Kåre Jørgensen, a City Hall spokesman, told DR.
Psittacosis, also known as parrot fever, can also spread to humans and two workers who helped take care of the birds came down with flu-like symptoms but have since been cleared to return to work.
Jørgensen said that although the infection could have been treated, it would have been too hard on the pigeons.
"If we were to [treat them, ed.] it would require that the pigeons be shut up in our tower for four months. The veterinarian determined that that would be a gross violation of the animal's welfare, so we couldn't subject them to that," he told DR.
Jørgensen said officials haven't yet decided whether they will attempt to repopulate the City Hall tower with a new flock of pigeons. To do so, the dead birds would first have to be removed and the entire tower would have to be disinfected.
About Pigeon Patrol:
Pigeon Patrol Products & Services is the leading manufacturer and distributor of bird deterrent (control) products in Canada. Pigeon Patrol products have solved pest bird problems in industrial, commercial, and residential settings since 2000, by using safe and humane bird deterrents with only bird and animal friendly solutions. At Pigeon Patrol, we manufacture and offer a variety of bird deterrents, ranging from Ultra-flex Bird Spikes with UV protection, Bird Netting, 4-S Gel and the best Ultrasonic and audible sound devices on the market today.
Voted Best Canadian wholesaler for Bird Deterrent products four years in a row.
Contact Info: 1- 877– 4– NO-BIRD (www.pigeonpatrol.ca)