Keeping this in view, how do pigeons survive in the city?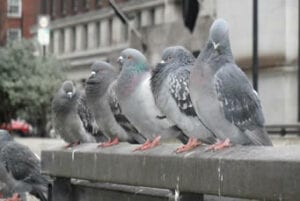 Pigeons (Rock Doves) adapt well to cities because they find there habitat similar to the cliffs where they live in the wild. If we were prepared to capture and eat them (not recommended today for health reasons) their populations would be much smaller of course.
Subsequently, question is, where do pigeons die? This background means that, when sick or injured, pigeons instinctively retreat to dark, remote places – ventilation systems, attics, building ledges – hoping to remain out of reach and unnoticed by predators. The predators don't see them, but neither do we: often when pigeons expire, they are in hiding.
Keeping this in consideration, how long can a pigeon live?
Life Expectancy: Varies greatly from 3-5 years through to 15 years dependent on many factors, including natural predation and human interference. Predation: The wild pigeon is predated upon, almost exclusively, by the peregrine falcon, a bird that is also found living and breeding in coastal regions.
Do pigeons fight to the death?
As The Tom says, pigeons will defend their nest to the death under these circumstances. In a confined space this can quickly lead to the eggs becoming broken, or even the squabs being trampled to death in the ensuing skirmish.
Pigeon Patrol Products & Services is the leading manufacturer and distributor of bird deterrent (control) products in Canada. Pigeon Patrol products have solved pest bird problems in industrial, commercial, and residential settings since 2000, by using safe and humane bird deterrents with only bird and animal friendly solutions. At Pigeon Patrol, we manufacture and offer a variety of bird deterrents, ranging from Ultra-flex Bird Spikes with UV protection, Bird Netting, 4-S Bird Gel and the best Ultrasonic and audible sound devices on the market today.
Voted Best Canadian wholesaler for Bird Deterrent products ten years in a row.
Contact us at 1- 877– 4– NO-BIRD, (604) 585-9279 or visit our website at www.pigeonpatrol.ca
Pigeon/Pigeon Patrol / Pigeons Roosting / Vancouver Pigeon Control /Bird Spikes / Bird Control / Bird Deterrent / Pigeon Deterrent?  Surrey Pigeon Control / Pest /Seagull deterrent / Vancouver Pigeon Blog / Birds Inside Home / Pigeons in the cities / Ice Pigeons/ What to do about pigeons/ sparrows , Damage by Sparrows, How To Keep Raccoons Away,  Why Are Raccoons Considered Pests/ De-fence / Pigeon Nesting/ Bird Droppings / Pigeon Dropping/ woodpecker control/ Professional Bird Control Company/ Keep The Birds Away/ Birds/rats/ seagull/pigeon/woodpecker/ dove/sparrow/pidgeon control/pidgeon problem/ pidgeon control/flying rats/ pigeon Problems/ bird netting/bird gel/bird spray/bird nails/ bird guard