You could be forgiven for thinking that pigeons ever lived in the wild. They have been such a constant presence in human cities for so long that they are seen as urban creatures to this day. However, their commonness doesn't mean they are harmless. Pigeons can be just as troublesome as other common pests, and they can be even more dangerous than you probably realize. Learning how you can prevent a pigeon infestation in your property can protect you from these problems.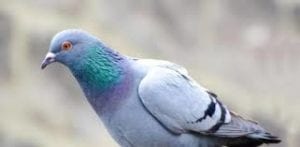 Common But Not Harmless
Pigeons are so common in urban America that most people don't pay them any real attention. Some people even feed them. It's this relationship to humans that has allowed pigeons to thrive and reveal their true colors as truly harmful birds. But pigeons haven't always nested in cities and suburbs, they descend from cave birds that occupied rugged coasts and mountains. Some pigeons still migrate to these natural areas to breed but their reliance on human waste for food and industrial buildings for shelter means pigeons are a permanent fixture in modern life. But make no mistake, pigeons are responsible for the same kinds of damage and danger that other pests are known for.
Damage & Danger Caused By Pigeons
Even though people consider them harmless birds, pigeons have proven time and time again that they are more than just birds picking up breadcrumbs. Pigeons can lead to all of the following problems for humans:
Disease. Pigeons are known as vermin for a reason, they are carriers of dangerous and fast-spreading diseases like hepatitis and salmonella.
Parasites. Even if pigeons themselves aren't carriers of diseases, they can carry ticks and lice that are also harmful and known to transmit pathogens.
Damage. Pigeons aren't just a health risk, but a property risk too. With their habit of nesting inside of electrical utilities and roosting inside of people's roofs, pigeons can cause direct damage and interference to the common amenities of daily life.
Feces. Not only can pigeons cause damage with their nests, but they can also cause damage to their poop. The highly corrosive droppings can chew through concrete and even metal — not to mention the unpleasant sights and smells that result.
Keeping Pigeons Off Your Property
Since pigeons in Owensboro are everywhere, it's important to take steps to make your property less attractive to flying invaders in search of shelter or food. Here are some steps you can take:
Don't feed them. First and foremost, everyone should take heed of this tip. The more people feed pigeons, the more their populations grow. If you feed them on your property, either directly or via bird feeders, you're simply inviting them to cause more problems.
Landscaping. Keeping trees trimmed away from any structures will prevent pigeons from having an easy place to land that's right next to your property.
Anti-roosting. There is a wide range of spikes, grates, and covers that are available for commercial and residential properties, which prevent pigeons from landing or nesting.
Take Proper Action
Because pigeons are such a common part of modern life, anyone can fall victim to the problems they cause. Once they've taken hold in an area, pigeon populations can grow simply massive. Rather than try to deal with prevention and removal on your own, enlist the help of trained experts who can assist you. At Action Pest Control, our friendly staff can provide you with even more tips to prevent and spot the signs of pigeon damage. If our inspections reveal an infestation, we'll work to get rid of it and work with you on steps for future prevention.
Don't get complacent when it comes to pigeons, act today.
Pigeon Patrol Products & Services is the leading manufacturer and distributor or bird deterrent (control) products in Canada. Pigeon Patrol products have solved pest bird problems in industrial, commercial, and residential settings since 2000, by using safe and humane bird 
deterrents with only bird and animal friendly solutions. At Pigeon Patrol, we manufacture and offer a variety of bird deterrents, ranging from Ultra-flex Bird Spikes with UV protection, Bird Netting, 4-S Bird Gel and the best Ultrasonic and audible sound devices on the market today.
Voted Best Canadian wholesaler for Bird Deterrent products ten years in a row. 

Contact us at 1 877-4-NO-BIRD,(604) 585-9279 or visit our website at www.pigeonpatrol.ca

Pigeon/Pigeon Patrol / Pigeons Roosing / Vancouver Pigeon Control / Bird Spikes / Bird Control / Bird Deterrent / PIgeon Deterrent / Surrey Pigeon Control / Pest / Seagull deterrent / Vancouver Pigeon Blog / Birds Inside Home / Pigeons in the cities / Ice Pigeons / What to do about pigeons / sparrows, Damage by Sparrows, How to Keep Raccoons Away, Why Are Raccoons Considered Pests / De-fence / Pigeon Nesting / Bird Droppings / Pigeon Dropping / woodpecker control / Professional Bird Control Company / Keep The Birds Away / Birds/rats/seagull/pigeon/woodpecker/dove/sparrow/pidgeon control/pidgeon problem/pidgeon control/flying rats/pigeon problems/ bird netting/bird gel/bird spray/bird nails/bird guard