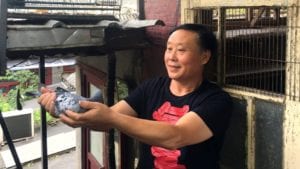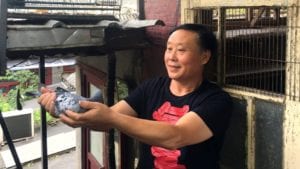 By Karoline Kan, CNN • 6th April 2019
Every day during the racing season, 55-year-old Zhang Yajun wakes at 4 a.m. and carefully loads bamboo cages containing his 76 cherished racing pigeons into a van. Then he drives up to 200 kilometers (124 miles) from his Beijing apartment to release them. They are in training for the October and November racing season, during which time millions of dollars can be won in total prize money across races.
Zhang is just one of some 100,000 pigeon breeders living in Beijing, according to Sun Yan, the deputy general-secretary of the Beijing Changping District Racing Pigeons Association.
"Pigeon racing is a culture, but it's also a sport," Sun says.
On a crisp fall morning, Zhang opens the cages in a cornfield at Niutuo in Hebei province, 80 km (50 miles) south of Beijing. Forty minutes later, he uses his phone connection to a rooftop camera to watch the birds arriving home. He's happy with their speed.
Zhang, who was a state-owned beverage factory manager before retiring in the early 2000s, says he spends about 100,000 yuan ($14,900) a year on his pigeons. That covers food, medicine, race entry fees and transport costs for training sessions — as well as equipment such as his rooftop camera gear.
Each spring, Zhang says, some 100 pigeons are born on his roof but by fall only about 20 are left. The rest have either succumbed to illness or died of injuries suffered from hitting telegraph poles or other obstacles. Or else they just got lost on the way home.
But pigeon racing also has a darker side.
Zhang says "bird-napping" — when pigeons are baited and netted during training sessions before being sold off — is a common problem.
And then there is the cheating.
In April last year, two men hid their birds in milk cartons and caught a bullet train in Henan before releasing them in Shanghai, 750 km (466 miles) away. But the birds' unusually fast speed aroused suspicion, and the men were fined and given suspended three-year prison sentences for fraudulently obtaining prize money totaling about $147,000.
However; Beijing is becoming less and less friendly to bird fanciers.
In the spring of 2017, under a city beautification campaign targeting two-story buildings in the lanes known as hutongs, many rooftop pigeon lofts were subsequently demolished.
The government classified them as illegal buildings.
Breeder Zhang Jian says four large pigeon cages on his roof were demolished, although he still surreptitiously keeps four other cages housing about 100 pigeons. Most of his neighbors have known Zhang Jian since he was a boy and he says they understand his passion for the birds.
About Pigeon Patrol:
Pigeon Patrol Products & Services is the leading manufacturer and distributor of bird deterrent (control) products in Canada. Pigeon Patrol products have solved pest bird problems in industrial, commercial, and residential settings since 2000, by using safe and humane bird deterrents with only bird and animal friendly solutions. At Pigeon Patrol, we manufacture and offer a variety of bird deterrents, ranging from Ultra-flex Bird Spikes with UV protection, Bird Netting, 4-S Gel and the best Ultrasonic and audible sound devices on the market today.
Contact us at 1- 877– 4– NO-BIRD, (604) 585-9279 or visit our website at www.pigeonpatrol.ca