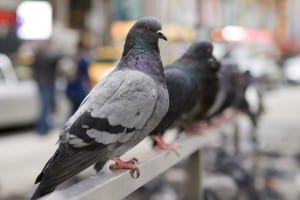 PESKY pigeons who set up home in a museum's bottle oven have been forced to find another place to roost.
Scores of the birds had been settling down in one of the four ovens preserved at Gladstone Pottery Museum, in Longton, causing disruption for workers and volunteers.
Now – after Stoke-on-Trent City Council approved an application to put up camouflaged nets – the pigeons have been blocked from staying at their favourite nesting spot.
Staff at the museum say they are relieved as the potbank 'coo' has seen fewer birds target the area.
Museum manager Angela Lee said: "It seemed to be a feature of this year, in that the pigeons were looking for somewhere to roost and they took a liking to one of our bottle ovens.
"I think once a few thought that this was a good idea, lots of others then liked it and followed them, and it started to become a bit of a problem.
"Obviously, we were concerned that it could become a health and safety issue, from the birds themselves and from the mess they create. We had to do something about it.
"There has been a noticeable difference since the nets went up.
"We still have the odd pigeon flying around the yard, but they're not coming in en masse like they were before."
Paul Niblett, from Longton Road, Trentham, is one of the original volunteers who helped to save the former Gladstone Pottery Work in the early 1970s.
He is relieved the pigeons have now been pushed to the margins.
He said: "It has been happening for quite a while now, and they were quite well-established.
"Three of the four bottle ovens that have been restored in the last few years have a big glass disc on the top, which stops birds getting in there. But the fourth one, which hasn't been restored yet, is still open.
"Pigeons being pigeons, I think they flew over it and thought 'that's a lovely place to nest', and then more of them came.
"Putting a top on it is seriously expensive, as it involves a lot of work and scaffolding, but the nets are a good alternative to that.
"I think it's distinctly improved since they've gone up, and it's good to see fewer pigeons."
Paul Buttery, a pigeon fancier from Kidsgrove, said the preventative measures taken by the museum should be enough to keep the pigeons from coming back to roost.
The 53-year-old added: "If they start going somewhere to nest then they will keep going back there – they're very territorial.
"They won't leave by choice, the only they will leave is if they you put a net or fence or something like that in the way to stop them getting in there.
"If they persist in being a problem then the only thing that could be done would be to have a cull.
"That's the ultimate solution, but it shouldn't need to come to that."
About Pigeon Patrol:
Pigeon Patrol Products & Services is the leading manufacturer and distributor of bird deterrent (control) products in Canada. Pigeon Patrol products have solved pest bird problems in industrial, commercial, and residential settings since 2000, by using safe and humane bird deterrents with only bird and animal friendly solutions. At Pigeon Patrol, we manufacture and offer a variety of bird deterrents, ranging from Ultra-flex Bird Spikes with UV protection, Bird Netting, 4-S Gel and the best Ultrasonic and audible sound devices on the market today.
Voted Best Canadian wholesaler for Bird Deterrent products four years in a row.
Contact Info: 1- 877– 4– NO-BIRD (www.pigeonpatrol.ca)