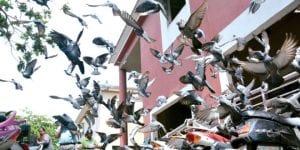 In the first case of its kind in North Wales, Brenda Hawkins was fined by a council for feeding the birds too much
Harold and Diane Fredman from Rhos on Sea praised council for prosecuting their neighbour over bird feeding
A family whose neighbour fed birds so much it caused a nuisance, said the garden was like a scene from the Alfred Hitchcock film The Birds.
Brenda Hawkins regularly left food out for small birds but pigeons and seagulls swooped in to her enclosed Rhos on Sea gareen.
Conwy County Borough Council prosecuted her on Friday for breaching a Community Protection Notice in the first case of its kind in North Wales.
Her neighbours Diane and Harold Fredman own a property in Cambrian Drive that backs onto Mrs Hawkins's garden in Brookfield Drive.
Their daughter Alex Harvey, 35, said: "It's like a scene from a Hitchcock horror film The Birds when huge flocks of mainly pigeons and seagulls swoop into their garden. The noise is unbelievable as they feed on her lawn."
Read about Mrs Hawkins's court case
Mrs Harvey, of Whitby, North Yorkshire, said: "I was frightened to bring my three-year-old daughter Olivia there."
She added: "My parents wanted a peaceful retirement in Rhos on Sea but that has not been possible. My mum and dad like birds and are animal lovers, they have a dog.
"I think the council has done the right thing in prosecuting her as often councils come into criticism for not listening to people and this time they have listened and acted to prevent this nuisance neighbour.
"I hope now that she will heed the judgement the court has made and let people live in peace."
Brenda Hawkins was fined for feeding birds in her own gardenBrenda Hawkins was fined for feeding birds in her own garden
Mrs Fredman, 69, also praised the council for acting.
She said: "We are very grateful to the council. There were 100 pigeons at times and the noise from the flapping of the pigeon wings was tremendous. The noise from the seagulls was horrendous."
Mrs Fredman, a retired personal assistant and shorthand typist, added that she is "very fond" of birds and animals,
Read about Mrs Hawkins hitting back at council
She is a member of the RSPB, RSPCA, Peta (People for the Ethical Treatment of Animals) and World Animal Protection.
But she insisted: "Putting that amount of food out with no consideration for neighbours is ridiculous."
A spokeswoman for the council said: "This was the first prosecution in North Wales for breach of a Community Protection Notice."
Mrs Hawkins, Rhos on Sea Townswomen's Guild chairwoman, was fined £200 and ordered to pay costs of £409, a criminal court charge of £520 and a surcharge of £20.
She later branded her treatment "draconian".
Use the comments section below to tell us what you think about this story.
About Pigeon Patrol:
Pigeon Patrol Products & Services is the leading manufacturer and distributor of bird deterrent (control) products in Canada. Pigeon Patrol products have solved pest bird problems in industrial, commercial, and residential settings since 2000, by using safe and humane bird deterrents with only bird and animal friendly solutions. At Pigeon Patrol, we manufacture and offer a variety of bird deterrents, ranging from Ultra-flex Bird Spikes with UV protection, Bird Netting, 4-S Gel and the best Ultrasonic and audible sound devices on the market today.
Voted Best Canadian wholesaler for Bird Deterrent products four years in a row.
Contact Info: 1- 877– 4– NO-BIRD (www.pigeonpatrol.ca)