When pigeons rule the roost, everything beneath them will be coated with their droppings.
And when a sidewalk runs under their perch, it's 100 per cent certain that some of the people strolling along it will be victimized by a wet and disgusting bombing.
So if it is true that to be pooped on by a bird is good luck, then fortune must be smiling on the victims who walk along the Parkside Dr. underpasses beneath The Queensway and the Gardiner Expressway.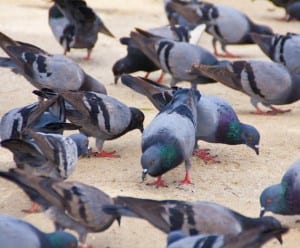 A reader posted a complaint about it on SeeClickFix, saying pigeon droppings in the underpasses are among several things that make for an unpleasant journey.
"It's a scary bit of roadway for pedestrians who are quite close to traffic while heading down to the (Sunnyside) pool under three overpasses," said the reader.
"It can be very loud and big vehicles pass quickly and very close to the walkways. Hugging the walls as you walk through is not possible because of the droppings.
"I'm sure little children cry if an unknowing parent drags them through those underpasses at a bad moment."
We went there and found that the thunder of big trucks made a booming sound that is indeed unsettling, but that's life in the city. There's no fix for it, other than to move to the country.
But there's a sickening amalgam of dried leaves and bird feathers at the point where the sidewalk meets the west wall of the underpass, glued together by pigeon poop.
An attractive mural was painted along the east side of the underpass not long ago, which partly explains why the mess is limited to the west side.
Metal bird screens were installed many years ago above the sidewalks in the underpass rafters, but holes have developed along the west side, allowing pigeons to get in and do their business above the sidewalk.
STATUS: We've asked Rick Helary, who's in charge or road operations in that area, if he can arrange for the sidewalk to be cleaned and the screens replaced.
What's broken in your neighbourhood?
About Pigeon Patrol:
Pigeon Patrol Products & Services is the leading manufacturer and distributor of bird deterrent (control) products in Canada. Pigeon Patrol products have solved pest bird problems in industrial, commercial, and residential settings since 2000, by using safe and humane bird deterrents with only bird and animal friendly solutions. At Pigeon Patrol, we manufacture and offer a variety of bird deterrents, ranging from Ultra-flex Bird Spikes with UV protection, Bird Netting, 4-S Gel and the best Ultrasonic and audible sound devices on the market today.
Voted Best Canadian wholesaler for Bird Deterrent products four years in a row.
Contact Info: 1- 877– 4– NO-BIRD (www.pigeonpatrol.ca)