PIGEONS roosting beneath a Redhill bridge have ruffled the feathers of residents and commuters.
Many birds have made their home under the bridge next to the town's railway station, resulting in pigeon poo smattering the pavements and busy A25.
The Mirror was contacted about the issue by Reigate reader Sarah Ballingal.
She said: "It is usually bad enough, but when I walked under there on the morning of August 23 I couldn't believe how bad it had become.
"The amount of feathers there was extraordinary.
"It was as though every pigeon in the town had been plucked there.
"It's disgusting, a major health hazard and an appalling blot on Redhill's already shaky reputation."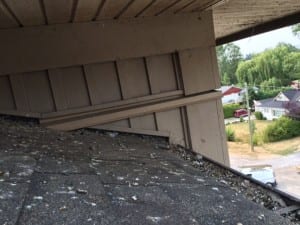 She said new visitors to the town would not stay too long when they saw how bad things had become there. Other residents also feel aggrieved.
Gareth Hughes, who has lived for 20 years in nearby St Anne's Drive, said: "It's such an eyesore.
"There's pigeons' mess all over the footpath and road. It's unhygienic as well as looking ugly."
Mr Hughes said protective netting was needed to deter the birds.
Malcolm Collins, of Redstone Hill, said: "I've never yet been hit by pigeon droppings but its probably only a matter of time. There are up to 20 pigeons roosting under the bridge.
"I think some metal pigeon proofing strips were put up there in recent years, but things have got worse recently."
Chris Denham, spokesman for Network Rail which owns the bridge, said: "Pigeons can be a menace.
"We usually schedule pigeon proofing for when other work is also planned as logistics like road closure orders are expensive and sometimes difficult to get.
"We tend to go for anti-pigeon mesh these days as it lasts longer and is more effective than the old nets.
"We will liaise with the local council and then decide on what measures, such as spikes and netting, will be implemented."
Richard Dewar, Reigate and Banstead Borough Council's outreach manager, said: "It is the responsibility of Network Rail to ensure pigeons do not colonise railway bridges and, as such, most bridges in the area have had pigeon proofing added.
"However, as the local authority, it is our role to report complaints about pigeon fouling to Network Rail.
"And where residents notice this problem under railway bridges, we would encourage them to report it to us online."
Complaints can be recorded via the council's website www.reigate-banstead.gov.uk. Alternatively call the authority on 01737 27600
About Pigeon Patrol:
Pigeon Patrol Products & Services is the leading manufacturer and distributor of bird deterrent (control) products in Canada. Pigeon Patrol products have solved pest bird problems in industrial, commercial, and residential settings since 2000, by using safe and humane bird deterrents with only bird and animal friendly solutions. At Pigeon Patrol, we manufacture and offer a variety of bird deterrents, ranging from Ultra-flex Bird Spikes with UV protection, Bird Netting, 4-S Gel and the best Ultrasonic and audible sound devices on the market today.
Voted Best Canadian wholesaler for Bird Deterrent products four years in a row.
Contact Info: 1- 877– 4– NO-BIRD (www.pigeonpatrol.ca)