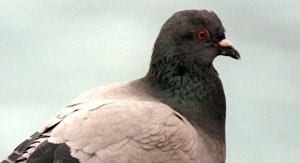 Details of the cruel treatment and illegal trade of animals have been revealed.
Created using data from the Metropolitan Wildlife Crime Unit, an online map features data for all 32 London boroughs.
There were seven cases of cruelty in Redbridge between February and July this year, including cases involving a swan, a fox and a pigeon.
One report was filed of a man shooting at pigeons in Hainault Country Park in Foxburrow Road, Hainault.
The report shows he was warned by police.
There were four cases recorded in Waltham Forest, including an illegal trade of a tortoise and goldfinches being illegally offered for sale on the internet.
The highest number of offences (26) was recorded in Richmond.
The map was compiled jointly by the Wildlife Crime Unit and charity World Animal Protection.
World Animal Protection campaigner, Alyx Elliott, said: "We commend the government for the work it has undertaken so far and welcome further dialogue around the specifics of our recommendations for fighting wildlife crime.
"We feel our report busts some myths about what wildlife crime looks like in the UK and demonstrates the urgent need for more to be done to tackle it here at home."
If you witness wildlife crime, the Metropolitan Wildlife Crime Unit can be contacted on 02072308898
About Pigeon Patrol:
Pigeon Patrol Products & Services is the leading manufacturer and distributor of bird deterrent (control) products in Canada. Pigeon Patrol products have solved pest bird problems in industrial, commercial, and residential settings since 2000, by using safe and humane bird deterrents with only bird and animal friendly solutions. At Pigeon Patrol, we manufacture and offer a variety of bird deterrents, ranging from Ultra-flex Bird Spikes with UV protection, Bird Netting, 4-S Gel and the best Ultrasonic and audible sound devices on the market today.
Voted Best Canadian wholesaler for Bird Deterrent products four years in a row.
Contact Info: 1- 877– 4– NO-BIRD (www.pigeonpatrol.ca)