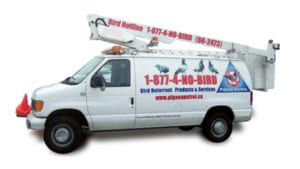 Pigeons droppings on park benches, cars and buildings are not only unsightly and smelly but also corrosive, particularly to buildings (Figure 3).
Large amounts of droppings also can kill vegetation.
Around farms, grain elevators and feed mills, pigeons consume and contaminate large quantities of grain.
Pigeons have been implicated in the transmission of diseases such as pigeon ornithosis, encephalitis and salmonella food poisoning. However, the actual incidence of transmission of diseases from pigeons to people is difficult to assess. Disease outbreaks that are directly attributed to pigeon flocks are rare.
Pigeons droppings, if allowed to accumulate for several years, can harbor the causal agent of histoplasmosis, a systemic fungus disease that affects the human respiratory tract. In severe cases, histoplasmosis can be fatal. The external parasites of pigeons include various species of mites, fleas, ticks and bugs.
In addition to being a threat to human health, pigeons can be a threat to human safety, particularly around airports, where pigeon flocks have collided with aircraft, causing human fatalities.
About Pigeon Patrol:
Pigeon Patrol Products & Services is the leading manufacturer and distributor of bird deterrent (control) products in Canada. Pigeon Patrol products have solved pest bird problems in industrial, commercial, and residential settings since 2000, by using safe and humane bird deterrents with only bird and animal friendly solutions. At Pigeon Patrol, we manufacture and offer a variety of bird deterrents, ranging from Ultra-flex Bird Spikes with UV protection, Bird Netting, 4-S Gel and the best Ultrasonic and audible sound devices on the market today.
Contact us at 1- 877– 4– NO-BIRD, (604) 585-9279 or visit our website at www.pigeonpatrol.ca
Bird Gone, Pigeon Gone, Seagull Gone, Pigeon problems, pigeon spikes, 1-877-4NO-BIRD, 4-S Gel, Bird Control, Pigeon Control, bird repellent, Bird Spikes, sonic bird repellent, stainless steel bird spikes, bird spikes Vancouver, Ultra Sonic Bird Control, Bird Netting, Plastic Bird Spikes, Canada bird spike deterrents, Pigeon Pests, B Gone Pigeon, Pigeon Patrol, pest controller, pest control operator, pest control technician, Pigeon Control Products, humane pigeon spikes, pigeon deterrents, pigeon traps, Pigeon repellents, Sound & Laser Deterrents, wildlife control, raccoon, skunk, squirrel deterrent, De-Fence Spikes, Dragons Den, Canada bird spikes, Canada pigeon, pigeon control, pidgon patrol, pidgon. Kill pigeons, crow, starling