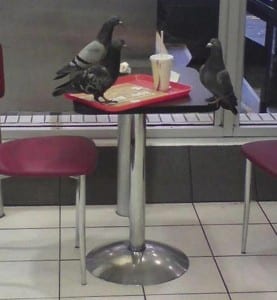 A father who took his two young sons to McDonald's was shocked to find a group of pigeons eating off the indoor tables as staff allegedly stood by and did nothing.
Josh Fry Snr, from Davoren Park north of Adelaide, visited the fast food outlet at Rundle Mall with his sons Josh, eight, and Charlie, six, on Saturday.
But when the family saw six pigeons they were turned off ordering food, so instead Mr Fry Snr, 28, took footage on his phone which he then posted to Facebook.
In the video the camera focuses in on five pigeons on a table eating from customers' abandoned meals.
The camera then pans to show another pigeon on the ground and a line of customers waiting at the counter.
Mr Fry then focusses the video on the McDonald's signage out the front of the restaurant.
'I just posted a video because they wouldn't have done anything,' he said.
'I did complain to McDonald's but I still haven't heard anything.'
A McDonald's spokesman said: McDonald's has high standards when it comes to cleanliness – our crew and managers clean dining areas at least every 20 minutes.
'The restaurant has also implemented a number of deterrents, including the installation of an air-curtain.'
About Pigeon Patrol:
Pigeon Patrol Products & Services is the leading manufacturer and distributor of bird deterrent (control) products in Canada. Pigeon Patrol products have solved pest bird problems in industrial, commercial, and residential settings since 2000, by using safe and humane bird deterrents with only bird and animal friendly solutions. At Pigeon Patrol, we manufacture and offer a variety of bird deterrents, ranging from Ultra-flex Bird Spikes with UV protection, Bird Netting, 4-S Gel and the best Ultrasonic and audible sound devices on the market today.
Voted Best Canadian wholesaler for Bird Deterrent products four years in a row.
Contact Info: 1- 877– 4– NO-BIRD (www.pigeonpatrol.ca)