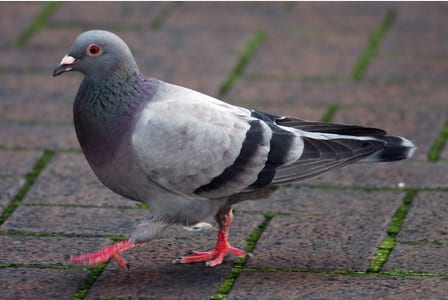 BENGALURU: With concrete jungle robbing them of their habitat, pigeons seem to be making metro stations their home. And this is proving costly for Namma Metro as support staff has to hit the ground almost every hour to clear bird poop from platforms and other areas.
As the winged visitors ensconce themselves in the supporting structures of the stations, bird droppings have contributed to an increase in the operating expenses of Bangalore Metro Rail Corporation Limited (BMRCL).
An RTI query filed by STOI revealed a near 30% increase in the annual housekeeping charges of Namma Metro's stations in its second and third years of operation. In a reply to the RTI query on whether bird droppings posed problems to maintenance of its stations, BMRCL said, "Yes, it is posing problems."
"High-level cleaning (is) being done for maintaining cleanliness," it added.
House-keeping charges for Reach 1 (Baiyapanahalli-MG Road) was Rs 106.71 lakh in the first year of its operation (Oct 2011 – Sept 2012), which rose to Rs130.7 lakh the next year (October 2012 – September 2013) and Rs 128.16 lakh (October 2013 – September 2014).
In other words, keeping the stations clean in the first year cost Namma Metro Rs 8.89 lakh a month. It shot up by nearly Rs 2.5 lakh to over Rs 10 lakh a month the next two years.
According to work staff, they used to clean the platforms once every two hours; of late they have been constrained to wield their mop-sticks on an hourly basis.
M B Krishna, a veteran ornithologist, says concrete structures such as Namma Metro's stations aren't favourable nesting spots to bird associated with the city. "What is the point if hardly a bird species or two reside here?" he says when asked whether such structures could help support their eco-system.
About Pigeon Patrol:
Pigeon Patrol Products & Services is the leading manufacturer and distributor of bird deterrent (control) products in Canada. Pigeon Patrol products have solved pest bird problems in industrial, commercial, and residential settings since 2000, by using safe and humane bird deterrents with only bird and animal friendly solutions. At Pigeon Patrol, we manufacture and offer a variety of bird deterrents, ranging from Ultra-flex Bird Spikes with UV protection, Bird Netting, 4-S Gel and the best Ultrasonic and audible sound devices on the market today.
Voted Best Canadian wholesaler for Bird Deterrent products four years in a row.
Contact Info: 1- 877– 4– NO-BIRD (www.pigeonpatrol.ca)