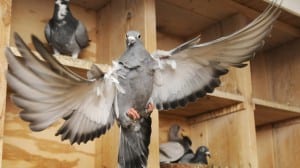 The need to control feral pigeon populations in urban areas has been the subject of intense debate for decades with town and city councils making little impact on the problem due to lack of investment and, in many cases, a reluctance to think laterally. Although the feral pigeon has been a common feature of urban life for the last 100 years there is no doubt that urban flocks are now growing faster than their numbers can be controlled. The reason for this unprecedented rise in feral pigeon numbers is due, almost exclusively, to the availability of food and the methods used to control the birds. Other factors such as the availability of good roosting and breeding facilities also play their part.
Today the feral pigeon can be seen in virtually every area of the globe other than the two polar icecaps, exploiting man for food and his buildings for the purposes of roosting and breeding. Man has attempted to control the feral pigeon by using a variety of lethal controls, includingpoisons, narcotics, cage traps and shooting, and yet the pigeon has shrugged off all these attempts at population control and continued to live and breed in close association with man undeterred. Lethal controls have been complemented by an arsenal of deterrents, provided in an effort to deny or restrict roosting and perching opportunities (thereby reducing guano-related problems). Anti-roosting systems such as anti-roosting spikes have proved extremely effective at displacing pigeons from areas that pigeons roost and nest; but may not be a total solution as pigeons may simply move to other areas nearby.
So what other options are available to control and contain the problem?
The use of lethal control as a means of controlling and reducing pigeon populations has been found to have no effect in terms of reducing pigeon flock size.
Breeding Control
The principle of a scheme using artificial breeding facilities is to provide a pigeon loft ordovecote in which feral pigeons can be encouraged to roost and breed and from which their eggs can be removed as laid and replaced with dummy eggs. This method of breeding control has been found to be extremely effective in reducing flock size and maintaining that reduction indefinitely.
If public feeding is identified to be the cause of the problem a system of controls must be provided that take the impact of persistent feeding into consideration at the same time as identifying large-scale pigeon roosts and closing them down. 
About Pigeon Patrol:
Pigeon Patrol Products & Services is the leading manufacturer and distributor of bird deterrent (control) products in Canada. Pigeon Patrol products have solved pest bird problems in industrial, commercial, and residential settings since 2000, by using safe and humane bird deterrents with only bird and animal friendly solutions. At Pigeon Patrol, we manufacture and offer a variety of bird deterrents, ranging from Ultra-flex Bird Spikes with UV protection, Bird Netting, 4-S Gel and the best Ultrasonic and audible sound devices on the market today.
Voted Best Canadian wholesaler for Bird Deterrent products four years in a row.
Contact Info: 1- 877– 4– NO-BIRD (www.pigeonpatrol.ca)
The information on this blog is for personal use only. Content for this blog obtained from other websites is not being used for any commercial reasons whatsoever as per the copyright statement on the Pigeon Control Resource Centre'swebsite. http://www.pigeoncontrolresourcecentre.org/ Special thanks for the people and companies that helped gather this information. This information is to be used for reference only.