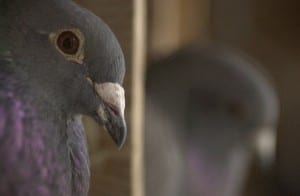 "We've had a few calls, we see it more and more every day. They will breed every 45 days, so it gets worse and w…"
–Richard Swallow
There is a growing pigeon problem in Saskatchewan, and Yorkton is no exception, with birds increasingly becoming a concern for local businesses and residents. The Yorkton Business Improve­ment District recently held an information meeting to discuss what options are available for controlling the pest bird.
Richard Swallow, owner of Riva Specialized Cleaning Services and Pigeon Control, was invited to speak on the services they offer to get pigeons out of a region. The business is focused on humane elimination of birds, using different devices to make a structure unappealing to birds. Riva is one of the few places in Saskatchewan who offers the service.
"It's really understanding what the birds are doing and where they are in order to get away from that site. We implement the proper solutions."
The birds are an invasive species, and Swallow says that the reasons to get rid of them are numerous, whether it's safety issues caused by their waste, their destruction of property, or the respiratory diseases they can spread in an area, especially as they tend to enjoy being near HVAC units.
In Yorkton, one of the biggest problem areas is an abandoned building, where it is estimated at least 200 birds have taken up residence. Swallow says a building like this presents a challenge on two fronts.
One, the building itself from a safety perspective, given the dangers that are inherent in an old structure, as well as the difficulty of moving pigeons out of a place where they have settled and have been occupying for a long time.
"You have dedicated birds, you have generational birds that have been in the same area for years. Very different strategy to implement than when you've just got a sign with birds that are sitting and crapping on it every day. It's different approach, different strategies and different implementation of the right tools to get a situation we can guarantee."
Part of getting rid of dedicated birds involves trapping, though Swallow says if you want a live release the birds will have to be driven to Calgary at a minimum to prevent their return. He says that they also have a humane method of euthanizing the birds. While there are methods of sterilizing the birds available in other markets, those are not currently available in Canada, something Swallow hopes to see change soon.
Bruce Thurston, chair of YBID, emphasizes that at this point there is no funding proposed to do an expansive bird control project, the meeting intended to be a fact finding mission to see what can be done about birds.
"We've had a few calls, we see it more and more every day. They will breed every 45 days, so it gets worse and worse every year, so sooner or later something has to be done, whether on an individual basis or as a collective community."
About Pigeon Patrol:
Pigeon Patrol Products & Services is the leading manufacturer and distributor of bird deterrent (control) products in Canada. Pigeon Patrol products have solved pest bird problems in industrial, commercial, and residential settings since 2000, by using safe and humane bird deterrents with only bird and animal friendly solutions. At Pigeon Patrol, we manufacture and offer a variety of bird deterrents, ranging from Ultra-flex Bird Spikes with UV protection, Bird Netting, 4-S Gel and the best Ultrasonic and audible sound devices on the market today.
Voted Best Canadian wholesaler for Bird Deterrent products four years in a row.
Contact Info: 1- 877– 4– NO-BIRD (www.pigeonpatrol.ca)