PROBLEMATIC pigeons will no longer be able to nest under the railway bridge on Chepstow Road.
Network Rail put up the nets after councillors raised concerns about safety, adding the birds were so foul they made worshippers reluctant to go to a nearby mosque.
Maindee residents had hoped for a solution for years and say they are delighted action has finally been taken.
Worshippers at the Shahporan Bangladeshi Jam'e Mosque had to walk underneath the bridge to get to prayers, but many felt the pigeon mess made it difficult to be clean before entering the mosque, a requirement in Islam.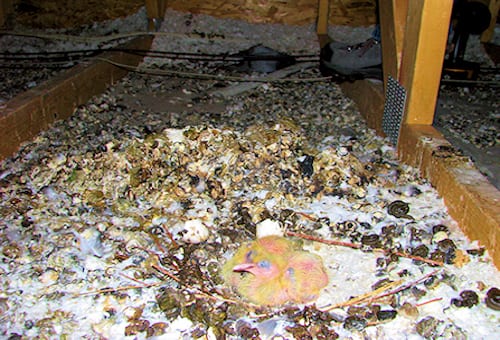 Others said the pigeon prevalence was dangerous as people had slipped over on the droppings.
Councillor Christine Jenkins said her husband noticed workmen installing the netting last week. "I want to say 'Thank you' to Network Rail", she said. "It has been installed since we put it in the paper and it's a good result. We have waited a long time to have netting put under the bridge. It's nice to know Network Rail is listening to the public. It's going to have a good effect on the community – they have been fighting for years for it."
One worshipper, Abbas Meah, 75, who has lived in Maindee since 1962, said the pigeons had been a serious problem. "People must walk through pigeon mess on both sides of the bridge," he said prior to the nets being installed. "People can't pray like this."
Majid Rahman, councillor for Victoria ward, said the walls had been "grubby with pigeon mess. It's a health and safety issue. Someone badly hurt their hand as a result of droppings on a metal grate."
Cllrs Rahman and Jenkins delivered a leaflet to Maindee residents last week saying the nets had been installed "to protect you from pigeon droppings" after talks with the council's street scene department, Network Rail and Maindee Action Group.
A Network Rail spokesman said previously: "Network Rail has a responsibility to taxpayers to ensure that it spends its limited public funds wisely.
"When looking at the problem and nuisance we know pigeons cause, we look at the scale of the problem and undertake a risk assessment to make an informed judgement."
About Pigeon Patrol:
Pigeon Patrol Products & Services is the leading manufacturer and distributor of bird deterrent (control) products in Canada. Pigeon Patrol products have solved pest bird problems in industrial, commercial, and residential settings since 2000, by using safe and humane bird deterrents with only bird and animal friendly solutions. At Pigeon Patrol, we manufacture and offer a variety of bird deterrents, ranging from Ultra-flex Bird Spikes with UV protection, Bird Netting, 4-S Gel and the best Ultrasonic and audible sound devices on the market today.
Voted Best Canadian wholesaler for Bird Deterrent products four years in a row.
Contact Info: 1- 877– 4– NO-BIRD (www.pigeonpatrol.ca)