Pigeon fancier lifetime ban for cheating. A pigeon-racing champion has received a lifetime ban from the sport after allegations that he cheated to win one of the most prestigious competitions in the sport's calendar.
A Pigeon fancier, Eamon Kelly, from Didcot, was accused of cheating by registering 14 birds for the Tarbes Grand National race but keeping them at home and sending decoys instead.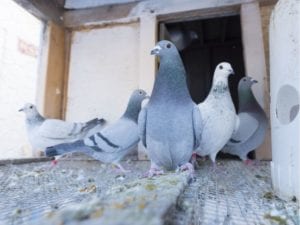 The National Flying Club, where he was an official race controller, said in a statement that the ban "follows the falsification of [Kelly's] race entry for Tarbes Grand National race dated 19 July 2016".
It added that Kelly "admitted [cheating] in telephone conversations with the president, chairman and secretary of the National Flying Club after the falsification was confirmed by members" who spotted discrepancies in the registered times.
Pigeon racing is a sport in which specially bred and trained by Pigeon fancier that are released from specific locations to race back to their home lofts. Each bird wears a ring which can be removed and registered on a clock or computer, and the bird with the highest average speed wins the competition.
The Tarbes Grand National is one of the most prestigious events in the sport, and features up to 4,000 birds who can travel between 500 and 800 miles. Pigeons are taken to the French town and are released to fly back to the UK.
Kelly won the competition in 2015 and was due to receive £1,500 in prize money and a £10,000 Ford Fiesta for defending the title. But it was revealed that while his decoy pigeons flew home, Kelly would lodge arrivals using microchip tags on the birds he was keeping in his loft.
Kelly, who started pigeon racing at the age of nine, apologised to the National Flying Club and resigned from his post, the Sun reported. In a statement, he said: "I, Eamon Kelly, sincerely apologise to all my friends and fanciers over my stupid actions relating to the recent Tarbes race. I was tempted and fell, a decision I will regret for the rest of my life. A sport that I love so much, that has given me untold pleasure and above all friendship, I have thrown all away."
Philip Curtis, chairman of the National Flying Club, wrote on the website prior to the ban: "The committee is very saddened by the events that took place over the Tarbes weekend and that such an occurrence put a huge cloud over the whole race. Compounded by national coverage of the event, this is a very sad day for the sport of pigeon racing that is enjoyed by so many. We wish to inform members that the National Flying Club is satisfied that no other members of the organisation are involved in this occurrence."
About Pigeon Patrol:
Pigeon Patrol Products & Services is the leading manufacturer and distributor of bird deterrent (control) products in Canada. Pigeon Patrol products have solved pest bird problems in industrial, commercial, and residential settings since 2000, by using safe and humane bird deterrents with only bird and animal friendly solutions. At Pigeon Patrol, we manufacture and offer a variety of bird deterrents, ranging from Ultra-flex Bird Spikes with UV protection, Bird Netting, 4-S Gel and the best Ultrasonic and audible sound devices on the market today.
Contact us at 1- 877– 4– NO-BIRD, (604) 585-9279 or visit our website at www.pigeonpatrol.ca
Bird Gone, Pigeon Gone, Seagull Gone, Pigeon problems, pigeon spikes, 1-877-4NO-BIRD, 4-S Gel, Bird Control, Pigeon Control, bird repellent, Bird Spikes, sonic bird repellent, stainless steel bird spikes, bird spikes Vancouver, Ultra Sonic Bird Control, Bird Netting, Plastic Bird Spikes, Canada bird spike deterrents, Pigeon Pests, B Gone Pigeon, Pigeon Patrol, pest controller, pest control operator, pest control technician, Pigeon Control Products, humane pigeon spikes, pigeon deterrents, pigeon traps, Pigeon repellents, Sound & Laser Deterrents, wildlife control, raccoon, skunk, squirrel deterrent, De-Fence Spikes, Dragons Den, Canada bird spikes, Canada pigeon, pigeon control, pidgon patrol, pidgon. Kill pigeons, crow, starling