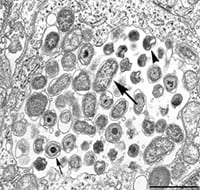 Pigeon droppings and public health, Disease risk from pigeon droppings is often used to justify killing pigeons, but fresh bird droppings have not been shown to present a health risk.
People may fear that pigeons roosting or nesting nearby, or more specifically the droppings that accompany such sites, are a health threat. These fears usually focus on histoplasmosis, a fungus that grows in dropping-enriched soil, and on diseases caused by Cryptococcus and Salmonella. However, there is little evidence linking pigeons directly to human infections.
Histoplasmosis fungus is common in the eastern and central U.S. As many as 80 percent of people tested in these areas prove to have already been exposed to the fungus without knowing.
According to the Centers for Disease Control, fresh bird droppings on surfaces such as sidewalks and windowsills have not been shown to present a health risk. People should avoid contact with any animal droppings, of course, and ordinary good hygiene, such as washing hands and leaving shoes at the door, are adequate prevention if you accidentally come into contact with animal droppings.
About Pigeon Patrol:
Pigeon Patrol Products & Services is the leading manufacturer and distributor of bird deterrent (control) products in Canada. Pigeon Patrol products have solved pest bird problems in industrial, commercial, and residential settings since 2000, by using safe and humane bird deterrents with only bird and animal friendly solutions. At Pigeon Patrol, we manufacture and offer a variety of bird deterrents, ranging from Ultra-flex Bird Spikes with UV protection, Bird Netting, 4-S Gel and the best Ultrasonic and audible sound devices on the market today.
Contact us at 1- 877– 4– NO-BIRD, (604) 585-9279 or visit our website at www.pigeonpatrol.ca
Pigeon droppings and public health, Bird Gone, Pigeon Gone, Seagull Gone, Pigeon problems, pigeon spikes, 1-877-4NO-BIRD, 4-S Gel, Bird Control, Pigeon Control, bird repellent, Bird Spikes, sonic bird repellent, stainless steel bird spikes, bird spikes Vancouver, Ultra Sonic Bird Control, Bird Netting, Plastic Bird Spikes, Canada bird spike deterrents, Pigeon Pests, B Gone Pigeon, Pigeon Patrol, pest controller, pest control operator, pest control technician, Pigeon Control Products, humane pigeon spikes, pigeon deterrents, pigeon traps, Pigeon repellents, Sound & Laser Deterrents, wildlife control, raccoon, skunk, squirrel deterrent, De-Fence Spikes, Dragons Den, Canada bird spikes, Canada pigeon, pigeon control, pidgon patrol, pidgon. Kill pigeons, crow, starling