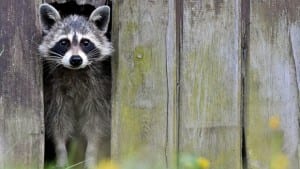 The biblical plagues descended on people for their alleged wickedness. People in some South Jersey towns are targeting themselves for a "plague" of skunks, raccoons, opossums and foxes with poorly thought out behaviors.
Wild animals seek opportunity, just like people. So when people feed wildlife and feral cats, put out garbage (i.e. food) in accessible cans and leave openings into their buildings (i.e. warm, sheltered nests), animals take advantage of it to survive and breed.
That annoys and inconveniences some, who then want to get rid of or even kill the animals. That's not fair. If people create wildlife problems, people can quit creating them.
These animals that are bothering some people in barrier island and mainland communities are all mammals, so step one is to quit putting out food for mammals. Placing dishes of cat food on the ground for feral cats is disastrous for the cats and the wildlife they kill, but it's also a giant expansion of the niche for skunks and raccoons.
Many people genuinely love wildlife and feral cats, but feeding them actually harms them by boosting breeding that leads to disease and starvation. Intentionally feeding non-bird wildlife and feral cats should be banned by every town. Yet of the Cape May County towns where people are complaining about skunks this fall, only Stone Harbor bans wildlife feeding on private property – and doesn't enforce that ban.
That's typical of local practices. Bad enough that people on the Ocean City Boardwalk often feed gulls, this past summer they were feeding donuts to foxes – and no one was cited for it.
The wildlife division of the Department of Environmental Protection says prohibiting wildlife feeding and backing it up with fines should be the first response to too many skunks, raccoons and such. It also urges the elimination of feral cat colonies.
The DEP also encourages trapping the animals if they're "a problem." We think that should be discouraged except when an animal poses an immediate health threat (for example, a rabid animal) and must be killed.
Once trapped, an animal must either be relocated or euthanized. Relocation possibilities, though, are limited even for licensed wildlife rehabilitators to prevent the inadvertent spread of animal diseases. And a relocated animal may not survive in a different territory, especially in winter.
The planet's 7 billion humans can't help being a crushing burden on their fellow animals. But people can stop doing things that bring overpopulation, disease and death to wild animals and feral cats.
To make the animals suffer further for human misbehavior is shameful.
About Pigeon Patrol:
Pigeon Patrol Products & Services is the leading manufacturer and distributor of bird deterrent (control) products in Canada. Pigeon Patrol products have solved pest bird problems in industrial, commercial, and residential settings since 2000, by using safe and humane bird deterrents with only bird and animal friendly solutions. At Pigeon Patrol, we manufacture and offer a variety of bird deterrents, ranging from Ultra-flex Bird Spikes with UV protection, Bird Netting, 4-S Gel and the best Ultrasonic and audible sound devices on the market today.
Voted Best Canadian wholesaler for Bird Deterrent products four years in a row.
Contact Info: 1- 877– 4– NO-BIRD (www.pigeonpatrol.ca)