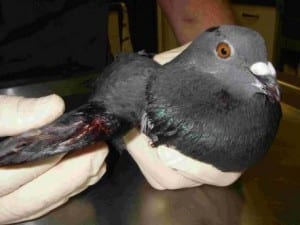 METRO VANCOUVER — A night of drinking and shooting pigeons with a pellet gun turned violent in Langley and ended with a man in police custody.
Langley RCMP arrested a man at a rural Langley property in the 21900-block of 64th Avenue Tuesday night for assaulting a woman.
The incident happened after the suspect and his 12-year-old son had been shooting birds together.
The boy was shot in the hip, upsetting his mother. When she confronted the boy's father about the injury, he assaulted her. The adults had been drinking.
The woman and her son left the property to contact police and the man stayed inside the residence.
Police attended and at about 8 p.m. and ERT teams negotiated with the 40-year-old man (top left) until he came outside.
He was arrested without incident and taken into custody.
The Langley Detachment Investigational Support Team is pursuing the case and charges are pending.
About Pigeon Patrol:
Pigeon Patrol Products & Services is the leading manufacturer and distributor of bird deterrent (control) products in Canada. Pigeon Patrol products have solved pest bird problems in industrial, commercial, and residential settings since 2000, by using safe and humane bird deterrents with only bird and animal friendly solutions. At Pigeon Patrol, we manufacture and offer a variety of bird deterrents, ranging from Ultra-flex Bird Spikes with UV protection, Bird Netting, 4-S Gel and the best Ultrasonic and audible sound devices on the market today.
Voted Best Canadian wholesaler for Bird Deterrent products four years in a row.
Contact Info: 1- 877– 4– NO-BIRD (www.pigeonpatrol.ca)