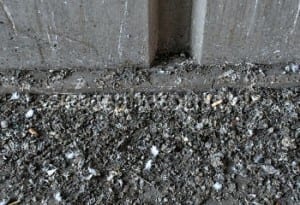 THE pigeon pest is back in Newent, and some traders in the town are fed up.
Anne Haines, who runs florists Flowercraft of Newent in Broad Street with her daughter Emma, is so incensed she has written to Newent Town Council pleading with them to do something – like a cull.
"The pigeons just make a huge mess, on the canopy, the walls and pavements," she said.
The problem isn't new. Last year Mrs Haines had to replace her canopy, that protects her flowers, at a cost of £750 because it was covered in mess and rotting through.
Peter Curtis of the Buttery Tea Rooms is opposite Flowercraft and sees first hand the problem – but he isn't affected.
"It's not a problem here. Probably because they have nowhere to perch or roost. But the flower shop and the pharmacy opposite is covered in pigeon poo. It's a right mess and can't be very nice for them," he said.
Newent Town Council's clerk said she would be approaching the district council for advice on how to deal with the problem.
Councillor Roger Beard of Newent Town Council said he will back moves for the town's pigeon population to be controlled.
"Pavements are covered in detritus in certain areas. The big problems is that their population is increasing and it's not being controlled," he said.
If tourists are to be encouraged to the town, said Mr Beard, then the streets will need to be clear of pigeon mess.
A district council spokesman said: "It is the responsibility of the building owners and landlords to put in place pigeon-proofing measures. The district ouncil's pest control team is happy to advise on the different types of preventative measures available and assist where possible."
But some traders believe the birds are "part of the countryside" and the authorities will never get rid of them.
Gloucester city has a similar problem with seagulls and the search continues for an effective solution.
Councillor Paul Toleman (C, Westgate) is unequivocal in his views on these 'feathered rats'.
He said: "They are dreadful winged vermin and are an absolute nuisance in the city."
Gloucester City Council has tried many methods to manage the problem, he said, but thus far the seagulls continue to return.
"I understand there have been considerations for a hawk to scare them off. I don't know if it would do it. They are a serious problem. But the council we has made other efforts and have made sure all food outlets use gull-proof bags, because food is one the reasons they come here," he said.
The key, he believes, is to stop the birds nesting. But it will all cost money.
Now is the wrong time to tackle the seagull pest in the city because the birds have nested and chicks born, he said.
About Pigeon Patrol:
Pigeon Patrol Products & Services is the leading manufacturer and distributor of bird deterrent (control) products in Canada. Pigeon Patrol products have solved pest bird problems in industrial, commercial, and residential settings since 2000, by using safe and humane bird deterrents with only bird and animal friendly solutions. At Pigeon Patrol, we manufacture and offer a variety of bird deterrents, ranging from Ultra-flex Bird Spikes with UV protection, Bird Netting, 4-S Gel and the best Ultrasonic and audible sound devices on the market today.
Voted Best Canadian wholesaler for Bird Deterrent products four years in a row.
Contact Info: 1- 877– 4– NO-BIRD (www.pigeonpatrol.ca)