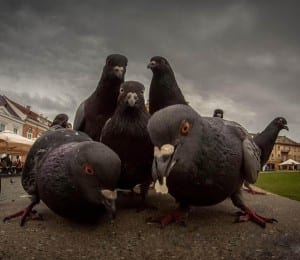 A SPECIALIST team has slaughtered potentially deadly pigeons to decontaminate Millom council offices after an infestation was exposed.
However, upstairs council offices and a kitchen are to remain closed for now after a health and safety inspection highlighted other issues including no disabled access.
A dangerous tile has also been removed from the Millom Town Council building, in St George's Road, and Cumbria County Council said further repairs will take place once the cull has finished.
The offices have been in lockdown since January 23 when feral pigeons, which could carry deadly diseases including salmonella, psittacosis and ornithosis, were discovered in the loft.
County councillor and town councillor for Millom Brian Crawford said: "Serious concerns have been raised about the condition of the building. We are not using the offices at all at the moment.
"We've been left in limbo a bit as we had to use the Pensioner's Hall last week for our town council meeting and some council staff are having to work from home."
County council officials said it could take several days for pest controllers to finish the cull and for corpses and leftover faeces to be removed.
The town council is now on the hunt for new temporary office space and potentially permanent new premises over fears repair work may prove too costly.
Cllr Crawford said: "We will have to look at the future of the whole building in light of the other issues which have been raised as we can't keep operating in there while the stair lift is broken because there's no disabled access.
"It's been suggested that it could be cheaper for the building to be knocked down and rebuilt than the cost of the repairs. I think what the council wants is for a community group to take on the work in conjunction with the town council and for it to be funded through grants.
"I know Millom residents won't be happy if this happens because it is an iconic building in the town. Another option is to completely refurbish the inside of building."
About Pigeon Patrol:
Pigeon Patrol Products & Services is the leading manufacturer and distributor of bird deterrent (control) products in Canada. Pigeon Patrol products have solved pest bird problems in industrial, commercial, and residential settings since 2000, by using safe and humane bird deterrents with only bird and animal friendly solutions. At Pigeon Patrol, we manufacture and offer a variety of bird deterrents, ranging from Ultra-flex Bird Spikes with UV protection, Bird Netting, 4-S Gel and the best Ultrasonic and audible sound devices on the market today.
Voted Best Canadian wholesaler for Bird Deterrent products four years in a row.
Contact Info: 1- 877– 4– NO-BIRD (www.pigeonpatrol.ca)