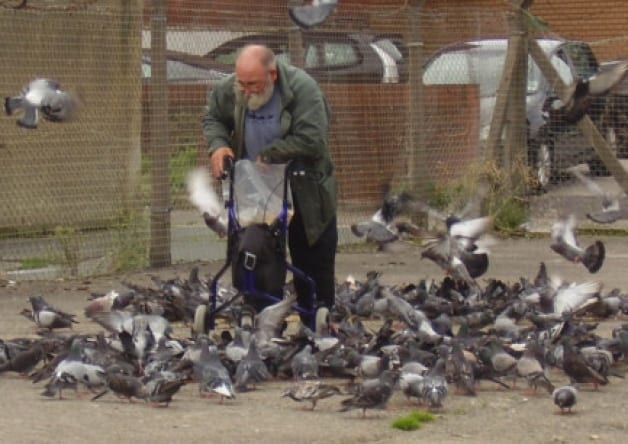 Mike Tyson may have found peace in the company of pigeons but in Howrah, a dispute over possession of a bird spurred a 48-year-old man to punch his best friend to death on Sunday evening.
Nageswar Rai kept punching his long-time friend and neighbour Navraj Singh, 50, in the face and body till he collapsed on the pavement in Round Tank Lane, say police.
Singh was taken to hospital where he died early on Monday. Doctors suspect the barrage of punches damaged his vital organs. Rai is absconding.
Singh was an employee in the conservancy department of Howrah Municipal Corporation. On Sunday evening, he returned to home clutching a 'lotan' pigeon (known in Bengali as 'noton payra'). Everyone knew that Singh has a soft corner for animals and birds.
The first thing he did was to call out to his old buddy Rai. The two began to admire the bird's qualities. After a while, Rai asked Singh to give the pigeon to him, saying it would be better off in his care.
Rai also warned Singh that stray cats may get to the bird if he insisted on keeping it. An argument ensued after which Rai allegedly attempted to snatch the bird from Singh's hands.
In the scuffle that followed, the pigeon flew off. An enraged Singh turned on Rai, accusing him for the loss.
Within minutes, the two men were at each other's throats, say police. Rai, a hawker, threw a flurry of punches and fled as Singh slumped to the ground. Singh's family members helped him inside the house.
Later in the evening, he started complaining of discomfort and was moved to Howrah district hospital where he died early in the morning. The body has been sent for autopsy.
But what was so unique about this pigeon?
"The uniqueness of this bird is that if shaken slightly and kept on the ground, it starts doing rolls. The only way to stop the rolling is to pick up the bird and blow into its mouth. These birds cost Rs 2,000-2,500 each," said Joydip Chatterjee of Chatterjee Pet House in Ashoknagar.
The neighbourhood is shocked by Singh's death. His wife Saro Devi lodged a complaint with police, accusing Rai, following which he was charged with culpable homicide not amounting to murder, said Howrah OC Tathagata Pande.
About Pigeon Patrol:
Pigeon Patrol Products & Services is the leading manufacturer and distributor of bird deterrent (control) products in Canada. Pigeon Patrol products have solved pest bird problems in industrial, commercial, and residential settings since 2000, by using safe and humane bird deterrents with only bird and animal friendly solutions. At Pigeon Patrol, we manufacture and offer a variety of bird deterrents, ranging from Ultra-flex Bird Spikes with UV protection, Bird Netting, 4-S Gel and the best Ultrasonic and audible sound devices on the market today.
Voted Best Canadian wholesaler for Bird Deterrent products four years in a row.
Contact Info: 1- 877– 4– NO-BIRD (www.pigeonpatrol.ca)