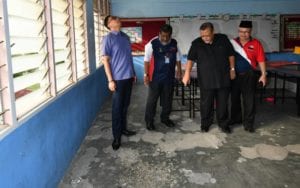 JOHOR BAHRU: The state government said the recurrence of breathing issues and vomiting among pupils of SK Tanjung Puteri Resort in Pasir Gudang here could also be due to constant pigeon droppings in some of the classrooms.
State Health and Culture Committee chairman Mohd Khuzzan Abu Bakar said the unpleasant odour of the bird droppings had been affecting some of the pupils for some time.
"This may also be among the factors (causing the pupils to experience shortness of breath and vomiting). So we request the ministry of education to immediately address this because you ladies and gentlemen (the journalists present there) have already seen the condition (of the area affected by bird droppings)," he told reporters after visiting the school today.
Meanwhile, state Education, Human Resources, Science and Technology Committee chairman Aminolhuda Hassan, who also visited the school, said the bird droppings were not only found on the ground floor, but also on the school's fourth-floor balcony.
"This has been happening for a long time now. Otherwise, how can there be such a large amount of droppings?
"I was informed that the ministry had come to visit (the school) and it is hoped that action will be taken to prevent the birds from entering the roofs of the classrooms and that cleaning work can begin immediately," he said.
He also urged the school administration to temporarily use other classes to prevent the pupils from suffering further discomfort.
Meanwhile, Johor Health Department director Dr Selahuddeen Abd Aziz said the bird droppings could cause more severe breathing difficulties for pupils compared with what they had experienced so far.
"In health terminology, we call it 'hypersensitivity pneumonitis' or 'Pigeon Breeder's Lung' which may lead to symptoms such as shortness of breath, but it depends on how long they have been exposed to the droppings," he said.
Have a Pigeon Problem?
Pigeon Patrol Products & Services is the leading manufacturer and distributor of bird deterrent (control) products in Canada. Pigeon Patrol products have solved pest bird problems in industrial, commercial, and residential settings since 2000, by using safe and humane bird deterrents with only bird and animal friendly solutions. At Pigeon Patrol, we manufacture and offer a variety of bird deterrents, ranging from Ultra-flex Bird Spikes with UV protection, Bird Netting, 4-S Gel and the best Ultrasonic and audible sound devices on the market today.
Voted Best Canadian wholesaler for Bird Deterrent products eight years in a row.
Contact us at 1- 877– 4– NO-BIRD, (604) 585-9279, or visit our website at www.pigeonpatrol.ca
4-S Gel Bird repellent, Animal Deterrent Products, Bird Deterrent Products, Bird Netting, Pigeon Patrol's Services, Pigeon Spikes, Pigeons in the News, UltraSonic Bird Control, Bird spikes, Bird Gone, Pigeon Gone, Pigeon problems, pigeon spikes, 1-877-4NO-BIRD, 4-S Gel, Bird Control, Pigeon Control, bird repellent, Bird Spikes, sonic bird repellent, stainless steel bird spikes, bird spikes Vancouver, Ultra Sonic Bird Control, Bird Netting, Plastic Bird Spikes, Canada bird spike deterrents, Pigeon Pests, B Gone Pigeon, Pigeon Patrol, pest controller, pest control operator, pest control technician, Pigeon Control Products, humane pigeon spikes, pigeon deterrents, pigeon traps, Pigeon repellents, Sound & Laser Deterrents, wildlife control, raccoon, skunk, squirrel deterrent, De-Fence Spikes, Dragons Den.