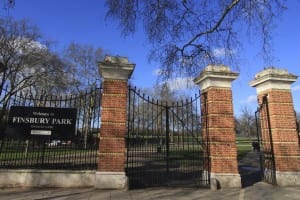 FRANKFURT—The glass-enclosed newsstand on platform 102 at Frankfurt Central Station has bird decals on its doors to ward off errant pigeons. That's nothing unusual, except the newsstand sits three stories underground.
"You expect rats or mice, but pigeons?" said traveler Ingeborg Striebl, watching one of the birds peck at crumbs that missed a trash bin. "How do they get down here? Do they come with the train?"
Europe has millions of pigeons. London's Trafalgar Square is carpeted with them. They swarm San Marco's square in Venice and the steps of Milan's cathedral. But those sites are all above ground.
The pigeons of Frankfurt's Central Station navigate underground corridors like commuters on autopilot. They come and go from the deep suburban-rail platforms by flying inches above escalator riders.
"It is striking to see them down here," said rider Rosario Scolaro, standing near four pigeons strutting around the newsstand. "One doesn't expect to see them under these dim ceilings."
Frankfurt Central is hardly the world's only city station with pigeons. But representatives for New York's train stations and the London Underground say the birds aren't too numerous—and don't make too many feathers fly.
But in Frankfurt, the station's open structure and easy access to lower levels have turned it into a subterranean aviary.
The rush-hour nature show isn't exactly a welcome one. In an attempt to minimize the birds presence in the 19th-century landmark, station operator Deutsche Bahn Service has festooned it with nets, wires and spikes. Nothing has worked. A spokeswoman for the service calls pigeons "the plague."
And so they keep coming, flying in every direction. It's in their blood. Their dexterity navigating underground tunnels today "links to their heritage living in cliffs," says Steve Portugal, a zoologist at Royal Holloway, University of London. Pigeons are the descendants of rock doves—seaside birds that live on precipices and in caves.
That helps to explain why, to pigeons, leafy green trees are for the birds. They prefer to nest on ledges, roofs, beams and other flat surfaces.
"The city perfectly mimics rock doves' environment," says Dr. Portugal.
Slow and rotund, pigeons struggle to soar. Their shape is adapted to short bursts of flight, often in tight spaces. Physiognomy and heritage mean pigeons, unlike other birds, have no qualms about dim lighting or spelunking.
"They're happy to go into dark tunnels," says Dr. Portugal. "They see a hole in a building and think 'OK I can do this.' " A larger, more graceful bird in a similar spot "couldn't get the oomph behind it to get back out."
Humans and other objects pose no obstacle. "Sometimes they fly past at a hair's breadth," said Ms. Striebl, the traveler, as a pigeon swooped along the platform toward a tunnel.
Pigeons aren't just nimble. They're smart, too. Zoologists say they can count, solve simple puzzles and distinguish between colors and individuals.
"Pigeons could learn to tell a Picasso from a Matisse if you trained them enough," said Luc-Alain Giraldeau, an expert on pigeons and dean of the Faculty of Science at the University of Quebec. "Some have learned to wait for automatic doors to open," he said. "Some have learned to operate automatic doors."
And while people grumble about "flying rats," few actually want a pigeon-free city, says Peter Havelka, a zoologist at Karlsruhe's Natural History Museum. Pigeons are part of the collective unconscious, he contends, inextricably bound up with positive associations.
Pigeons were among the first domesticated animals; many instinctively return to their owners. People bred them for food and used their droppings as fertilizer. It's those droppings, of course, that have soured public opinion—and made some people fearful that the birds will defecate on the fly (they don't, according to the experts).
"It certainly happens that you have to take cover," says Annette Drescher, who works at a bakery under the Central Station. To entice pedestrians, the bakery is completely open to the surrounding passageway, which means pigeons also whizz through. "They're a pest because you never know when something is going to land on you," Ms. Drescher said.
Dr. Havelka acknowledges humans "have had more profane experiences with pigeons" than as beloved pets. "One falls out of love quickly," he said. "It's understandable."
Frankfurt has managed to keep its greater pigeon population under control with scattered rooftop roosts, known as dovecotes. The oversize birdhouses deter pigeons from nesting in nearby buildings. In an attempt at population control, caretakers also replace some pigeon eggs with convincing fakes—a trick that works until the birds realize their "eggs" aren't viable. Manager Gudrun Stürmer estimates her team collects about 180 real eggs a month with the switcheroo.
Ms. Stürmer wants to build more dovecotes to help manage the population in "pigeon hot spots" like the station but few Frankfurters are eager to volunteer their rooftops. One bar owner who showed interest later backed out due to sanitation concerns.
"People don't like them because they're so much like us," said Ms. Stürmer. "They're hungry and there are many of them." she said.
Still the central station's pigeons have defenders. "Sometimes they fly right into your face," said Tesfalem Haile, who works at a juice bar on the main floor. "But they're a good sign, a symbol of peace."
About Pigeon Patrol:
Pigeon Patrol Products & Services is the leading manufacturer and distributor of bird deterrent (control) products in Canada. Pigeon Patrol products have solved pest bird problems in industrial, commercial, and residential settings since 2000, by using safe and humane bird deterrents with only bird and animal friendly solutions. At Pigeon Patrol, we manufacture and offer a variety of bird deterrents, ranging from Ultra-flex Bird Spikes with UV protection, Bird Netting, 4-S Gel and the best Ultrasonic and audible sound devices on the market today.
Voted Best Canadian wholesaler for Bird Deterrent products four years in a row.
Contact Info: 1- 877– 4– NO-BIRD (www.pigeonpatrol.ca)