Human infestation with bird mite, but What are bird mites?
Bird mites are found in the warmer regions of the world, including Australia.
There are several species of bird mite but the most common species affecting humans is the domestic Starling mite, Ornithonyssus bursa from the family Macronyssidae.
Bird mites are:
small (less than 1mm long) mites with 8 legs
very mobile
semi-transparent in colour until blood has been digested when they appear reddish to blackish
oval in shape with a sparse covering of short hair.
Bird mites are naturally found where birds (such as pigeons, starlings, sparrows and poultry) and their nests are located.
However, in the first few weeks after birds leave their nests, bird mites may infest homes in search of a blood-meal from humans. Bites from bird mites can cause severe irritation.
This is a report of a case of bird mite infestation which occurred in Wollongong in mid-December 1996. The individual suffered hundreds of bites, most of which were marked by itchy red papules 3-4 mm in diameter. Tiny mobile parasites (< 1 mm) collected from the skin and adjacent bedroom wall were identified as bird mites from the family Gamasidae, most probably from the genus Ornithonyssus. The source of the infestation was a starling nest under the eaves adjacent to the bedroom. The report summarises the ways bird mite bites can be distinguished from other insect and arachnid bites. If bird mite infestation is not correctly diagnosed, families who attempt to repeatedly treat it as if it were lice or scabies may incur considerable expense until the source of infestation is eliminated.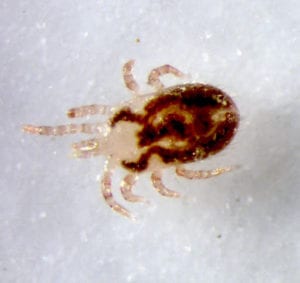 At Pigeon Patrol, we manufacture and offer a variety of bird deterrents, ranging from Ultra-flex Bird Spikes with UV protection, Bird Netting, 4-S Gel and the best Ultrasonic and audible sound devices on the market today.
Contact us at 1- 877– 4– NO-BIRD, (604) 585-9279 or visit our website at www.pigeonpatrol.ca
Bird Gone, Pigeon Gone, Seagull Gone, Pigeon issue, pigeon spikes, 1-877-4NO-BIRD, 4-S Gel, Bird Control, Pigeon Control, bird repellent, Bird Spikes, sonic bird repellent, stainless steel bird spikes, bird spikes Vancouver, Ultra Sonic Bird Control, Bird Netting, Plastic Bird Spikes, Canada bird spike deterrents, Pigeon Pests, B Gone Pigeon, Pigeon Patrol, pest controller, pest control operator, pest control technician, Pigeon Control Products, humane pigeon spikes, pigeon deterrents, pigeon traps, Pigeon repellents, Sound & Laser Deterrents, wildlife control, raccoon, skunk, squirrel deterrent, De-Fence Spikes, Dragons Den, Canada bird spikes, Canada pigeon, pigeon control, pigeon patrol, pigeon. Kill pigeons, crow, starling