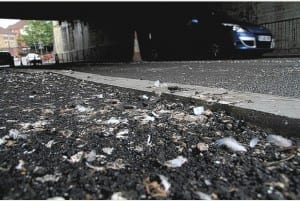 NETWORK Rail is running out of ideas to frighten off scores of pigeons roosting under a bridge on a main road into Taunton.
After all efforts to date have failed to shift the pests, the company is now suggesting the district council considers culling the birds.
But Taunton Deane Council says it would rather liaise with the rail company "to come to a satisfactory solution" after years of complaints from pedestrians.
Pedestrians and commuters have complained for years about the mess caused by the pigeons, blighting the first impressions of many train travellers arriving in the county town.
Network Rail originally attempted to put the pigeons to flight with a buzzing gadget called a Wailer in April 2007, but it didn't last long as it scared passers by more than the birds. Netting installed as part of a £300,000 spruce-up in 2012 of the bridge where Station Road joins Kingston Road has also not worked.
While the birds took off at first – many setting up home barely 50 metres down the road under a disused rail bridge – they started to return within six months.
The netting, which had become scruffy as well as ineffective, was removed earlier this year.
A company spokesman said: "The netting was removed as it was not as effective at deterring the pigeons as we hoped it would be. In its place we have installed 'get off' gel trays that are designed to prevent birds perching or roosting.
"These gel trays have proved a successful solution on other structures along the Western route. However, they do not solve the underlying problem of a significant pigeon population.
"Therefore you may wish to give the council a call as they have the means to control the population under the auspices of Section 74 of the Public Health Act 1961."
A Taunton Deane Council spokeswoman said: "The council is aware of the pigeon population at this bridge and continues to take action to ensure a clean passage into and out of town along this route."
"We will continue to encourage the owners of the bridge, Network Rail, to take such steps as they are able to resolve the issue.
"The council does have a power under section 74 of the Public Health Act 1961, but this is a little known and seldom used power which involves humane euthanising of the birds.
"We would prefer to liaise with the bridge owner to come to a satisfactory solution.
About Pigeon Patrol:
Pigeon Patrol Products & Services is the leading manufacturer and distributor of bird deterrent (control) products in Canada. Pigeon Patrol products have solved pest bird problems in industrial, commercial, and residential settings since 2000, by using safe and humane bird deterrents with only bird and animal friendly solutions. At Pigeon Patrol, we manufacture and offer a variety of bird deterrents, ranging from Ultra-flex Bird Spikes with UV protection, Bird Netting, 4-S Gel and the best Ultrasonic and audible sound devices on the market today.
Voted Best Canadian wholesaler for Bird Deterrent products four years in a row.
Contact Info: 1- 877– 4– NO-BIRD (www.pigeonpatrol.ca)