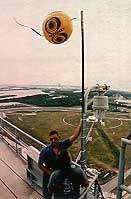 Hawaii's only electric cooperative is trying to determine whether laser technology could reduce deaths and injuries to seabirds in its service territory.
This green laser pattern reflected on a transmission pole is one of several being tested to help prevent bird collisions. (Photo By: Carey Koide /KIUC)
Kauai Island Utility Cooperative is testing a new "light fence" along a portion of its system. Co-op crews are attaching 30 lasers on transmission poles about one mile inland from the island's southern coastline.
"The purpose of this research is to learn more about the birds and their patterns of activity so we can come up with ways to minimize potential hazards and do it in a cost-effective way," said Carey Koide, transmission and distribution manager for the Lihue-based co-op.
The research is being conducted in cooperation with the U.S. Fish and Wildlife Service and the Hawaii Division of Forestry and Wildlife. More than 80 species of birds live on Kauai, including seabirds, native forest and wetland birds, according to scientists.
"As far as we know, this is the first time anywhere that lasers have been used to create a 'fence' for the birds," Koide said.
Laser generators are being installed on six spans of a transmission line. The laser generators will provide narrow beams of light, similar to those produced by pointers, focused parallel to the ground.
Several colors and patterns of light will be tested in an area outside of designated aviation space to prevent the lasers from posing aircraft hazards.
"Researchers want to determine whether the green beams provide a deterrent for native species like the Newell's shearwater and the Hawaiian petrel," said Shelley Paik, KIUC's public affairs specialist, adding that those species are particularly vulnerable to utility line collisions.
"They fly in and out to sea at night and in the early morning and are at greatest risk during a new moon phase when the skies are darkest," Paik said.
If the test is successful, deployment of a similar system could occur along a transmission corridor near Wailua, where bird collisions are more frequent, said Paik. That could be less expensive than lowering or burying power lines.
The co-op spends about $2 million annually on endangered species protection, including research, power line and lighting configuration, predator control, habitat restoration and rehabilitation of injured birds.
About Pigeon Patrol:
Pigeon Patrol Products & Services is the leading manufacturer and distributor of bird deterrent (control) products in Canada. Pigeon Patrol products have solved pest bird problems in industrial, commercial, and residential settings since 2000, by using safe and humane bird deterrents with only bird and animal friendly solutions. At Pigeon Patrol, we manufacture and offer a variety of bird deterrents, ranging from Ultra-flex Bird Spikes with UV protection, Bird Netting, 4-S Gel and the best Ultrasonic and audible sound devices on the market today.
Voted Best Canadian wholesaler for Bird Deterrent products four years in a row.
Contact Info: 1- 877– 4– NO-BIRD (www.pigeonpatrol.ca)