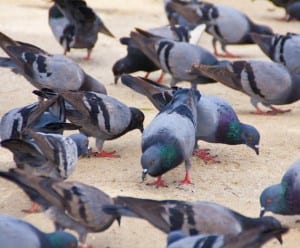 If you've been over to the House of St Barnabas members' club in Soho you may have seen Patrick Murphy's fabulous flock of pigeons, but if not, you've got the chance to catch them in a new art installation that's launching today.
Murphy's bright, eye-catching birds were originally as part of the Art Social '14 festival and now they're taking flight on to the lampposts of Soho for passers by to gawk at. Confused? Allows us to explain.
As we all know, pigeons have a bit of a bad rep and tend to be regarded as pests that we don't want hanging around. According to Murphy, the installation aims to raise questions surrounding the struggle for acceptance, feelings of marginalisation and homelessness in urban environments. Oh and it looks cool, too.
So for the next three months, when you're walking through Greek Street and Soho Square, look up and check out these feathery fellas without the fear of being pooed on in the process.
About Pigeon Patrol:
Pigeon Patrol Products & Services is the leading manufacturer and distributor of bird deterrent (control) products in Canada. Pigeon Patrol products have solved pest bird problems in industrial, commercial, and residential settings since 2000, by using safe and humane bird deterrents with only bird and animal friendly solutions. At Pigeon Patrol, we manufacture and offer a variety of bird deterrents, ranging from Ultra-flex Bird Spikes with UV protection, Bird Netting, 4-S Gel and the best Ultrasonic and audible sound devices on the market today.
Voted Best Canadian wholesaler for Bird Deterrent products four years in a row.
Contact Info: 1- 877– 4– NO-BIRD (www.pigeonpatrol.ca)