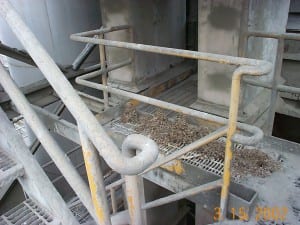 Pigeons are turning pavements under a railway bridge into 'no-go' areas for pedestrians it has been claimed.
The amount of excrement the birds roosting under the structure at Kerse Lane in Falkirk are dropping is causing concern.
Now a local shop manager has called for action to deal with the mess.
David Pacitti, boss of the William Hill bookmakers at nearby Ladysmill, has paid the price for being in the wrong place at the wrong time as he has walked under the bridge used by trains in and out of Grahamston Station.
The 40-year-old from Ward Avenue in Redding has had two pairs of trousers ruined – and a bill to have a jacket drycleaned – after being 'bombed' three times in as many weeks.
He said: "When I walk into town from the shop on business, going under the bridge is the obvious option. But it's disgusting. There is pigeon faeces all over the place and dead birds hanging in the netting above your head. The pavements on both sides of the road have not been cleaned for months and become a real eyesore. Anyone walking through this mess has to be facing a health hazard. It's ridiculous and I think something has to be done."
 About Pigeon Patrol:
Pigeon Patrol Products & Services is the leading manufacturer and distributor of bird deterrent (control) products in Canada. Pigeon Patrol products have solved pest bird problems in industrial, commercial, and residential settings since 2000, by using safe and humane bird deterrents with only bird and animal friendly solutions. At Pigeon Patrol, we manufacture and offer a variety of bird deterrents, ranging from Ultra-flex Bird Spikes with UV protection, Bird Netting, 4-S Gel and the best Ultrasonic and audible sound devices on the market today.
Voted Best Canadian wholesaler for Bird Deterrent products four years in a row.
Contact Info: 1- 877– 4– NO-BIRD (www.pigeonpatrol.ca)