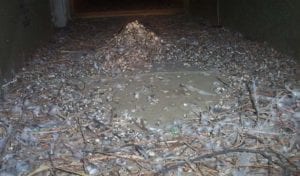 The owner of a southeast Edmonton home has been ordered to hire a qualified pest control operator to get rid of a pigeon infestation at the house.
One neighbour who lives near the home said he sat in his backyard about a month ago and counted upwards of 28 pigeons on the property.
When Global News visited the property Monday, the owner wouldn't comment on the situation, but he did say, "I'm raising pigeons in my bedroom."
The five bedroom, five bathroom house is currently on the market for $299,999. One neighbour told Global News they've witnessed people who have come to view the home running outside holding their noses. One person threw up on the ground after leaving the house, a neighbour told Global News.
The AHS officer who inspected the home found "a heavy pigeon infestation" on the outside of the house. The birds have taken over the exterior building envelope and an incomplete outdoor balcony addition, the AHS report stated.
"There's been numerous complaints from the neighbourhood. We're on it but there's a lot of moving pieces and it's complicated," Ward 11 councillor Mike Nickel said.
The city has been working on the file for about a year now. But when several jurisdictions have to come together to solve a problem like this, it can take some time, Nickel said.
"They don't want excuses. When it's at this scale of nuisance they just say, 'Get it fixed and get it fixed now.'"
The order to clean up the home was issued after an Alberta Health Services officer inspected the property on March 23. All occupants of the home have also been ordered to vacate by June 1.
A heavy accumulation of pigeon droppings was found on the o
utside of the home, which the owner has also been ordered to clean up.
Beyond the pigeon problem, the inspector found several structural concerns with the home which the owner has been ordered to fix. Other issues include unfinished walls, exposed insulation, missing siding, missing handrails and a blocked basement window.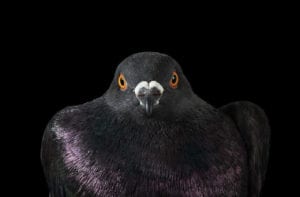 Here at Pigeon Patrol, we manufacture, sell, and install humane bird exclusion products, such as bird spikes and netting. Visit our website for the latest in humane bird control products and services.
Bird spikes, Bird Gone, Pigeon Gone, Pigeon problems, pigeon spikes, 1-877-4NO-BIRD, 4-S Gel, Bird Control, Pigeon Control, bird repellent, Bird Spikes, sonic bird repellent, stainless steel bird spikes, bird spikes Vancouver, Ultra Sonic Bird Control, Bird Netting, Plastic Bird Spikes, Canada bird spike deterrents, Pigeon Pests, B Gone Pigeon, Pigeon Patrol, pest controller, pest control operator, pest control technician, Pigeon Control Products, humane pigeon spikes, pigeon deterrents, pigeon traps, Pigeon repellents, Sound & Laser Deterrents, wildlife control, raccoon, skunk, squirrel deterrent, De-Fence Spikes, Dragons Den.