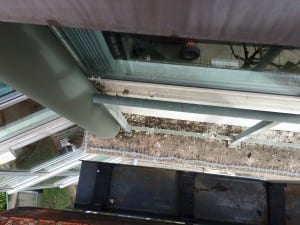 Dirtiest Hotel in America" Looks to Clean Up
A day after being dubbed the filthiest in America, a Tennessee hotel is pledging to clean up.
The Grand Resort Hotel & Convention Center was ranked the filthiest hotel in America, according to ratings compiled and released by the travel review site TripAdvisor.
The historic Smoky Mountains hotel in Pigeon Forge, Tenn., was graded "terrible" by 161 of 224 reviewers on the site. Twenty-six called it "poor" and 15 gave it an "average" grade.
But CEO and General Manager Nicky Darrell Chaney said he has already fired one manager, hired a new maintenance manager and new head of housekeeping, and is in the process of using a new sanitizer to clean the rooms, reports CBS affiliate WVLT in Knoxville.
"We knew we had some problems, and we've started to work on these problems," said Nicky Chaney, President and CEO of the company that runs the hotel. Chaney took over operations in December and vows to restore their public image.
"I fired one of the managers, I hired new maintenance, and new housekeeper," he said. "We're proud of what we're doing now, and were excited about where we're going to be in the next few weeks.
Chaney took over just last month as president and CEO of KMS Enterprises, which runs the Grand and several nearby properties owned by hotel magnate Kenneth M. Seaton.
"This is an issue the company is taking very seriously," Chaney said a statement Tuesday.
Seaton also is a defendant in a civil lawsuit alleging sexual harassment of two former housekeepers hired to work in KMS hotels, the Sentinel reports.
Meanwhile, the Grand will have to keep making changes to stay ahead of negative reviews – and the unwanted spotlight following the TripAdvisor "award."
"This is a nasty place, would not let my dog sleep there," reviewer LaFolettePat wrote last week under the headline "health inspector please."
JordynC's assessment: "If you are looking for a hotel with: pubic hair stuck to the bathroom floor in some unidentifiable, gelatinous liquid; chewing tobacco spit oozing down the halls and corridors; spiders actively making webs in every corner of your room; carpeting so greasy and dirty you wouldn't want to sit your luggage down – let alone walk around barefoot; dingy bedsheets and towels as rough and thin as sandpaper; and a room so putrid and smelly it causes a gag-reflex when you walk in… by all means, stay at The Grand Resort."
About Pigeon Patrol:
Pigeon Patrol Products & Services is the leading manufacturer and distributor of bird deterrent (control) products in Canada. Pigeon Patrol products have solved pest bird problems in industrial, commercial, and residential settings since 2000, by using safe and humane bird deterrents with only bird and animal friendly solutions. At Pigeon Patrol, we manufacture and offer a variety of bird deterrents, ranging from Ultra-flex Bird Spikes with UV protection, Bird Netting, 4-S Gel and the best Ultrasonic and audible sound devices on the market today.
Contact us at 1- 877– 4– NO-BIRD, (604) 585-9279 or visit our website at www.pigeonpatrol.ca
Bird Gone, Pigeon Gone, Pigeon problems, pigeon spikes, 1-877-4NO-BIRD, 4-S Gel, Bird Control, Pigeon Control, bird repellent, Bird Spikes, sonic bird repellent, stainless steel bird spikes, bird spikes Vancouver, Ultra Sonic Bird Control, Bird Netting, Plastic Bird Spikes, Canada bird spike deterrents, Pigeon Pests, B Gone Pigeon, Pigeon Patrol, pest controller, pest control operator, pest control technician, Pigeon Control Products, humane pigeon spikes, pigeon deterrents, pigeon traps, Pigeon repellents, Sound & Laser Deterrents, wildlife control, raccoon, skunk, squirrel deterrent, De-Fence Spikes, Dragons Den.