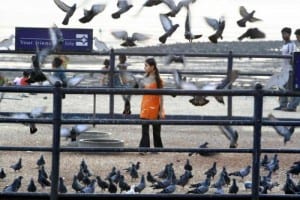 Alderman Bill Wilson said the biggest problem areas where pigeons have been congregating are being experienced by Devonport's eating houses.
He said retail outlets and other building owners in the central business district had complained about the problem as well.
"The pigeons do make an evil mess," he said.
Alderman Wilson tabled a successful notice of motion at Monday night's council meeting, calling for a report in relation to the health concerns related to pigeons in the CBD and whether measures were needed to eradicate them.
Sales manager at Banjo's Bakery and Cafe in the mall, Jannene Langmaid, said yesterday that feral pigeons invading the cafe were an issue and the birds had been getting worse in recent weeks.
"We have to shoo pigeons away from coming inside the door about every 10 minutes," she said.
"We can't shut the door because it locks on the outside."
Alderman Wilson told Monday night's council meeting that he knew the pigeons were a real nuisance but he didn't know if they were also a health concern.
Alderman Wilson said an owner of several buildings in Devonport told him that he'd had a quote to make one of his building's pigeon proof and it was going to cost $3500 to prevent the pigeons from nesting and resting.