DERELICT shops in one of the most unattractive parts of the town centre have fallen even further into disrepair nearly 18 months after permission was granted to revamp them.
In June last year Crawley Borough Council approved plans to replace 15-29 The Broadway with dozens of flats and new retail units.
But 17 months on there has been no visible work carried out at the site, which has also become a home for a horde of pigeons, who are covering the inside of the building with excrement.
Appalled by the state of shops, Crawley resident Jeff Herbert has called on the council to put pressure on the building owner to clean up the mess caused by the winged squatters.
The 69-year-old, who lives in Wolstonbury Close, Southgate, said: "These shops have been empty for so long and I think it's a disgrace that they are being left in this state.
"Crawley Borough Council doesn't seem to have picked it up, and they are usually very hot on the cleanliness of shops.
"The pigeons have got inside somehow and are pooing all over the place."
Peter Smith, the council's cabinet member for planning and economic development, admits the authority cannot do much about the situation.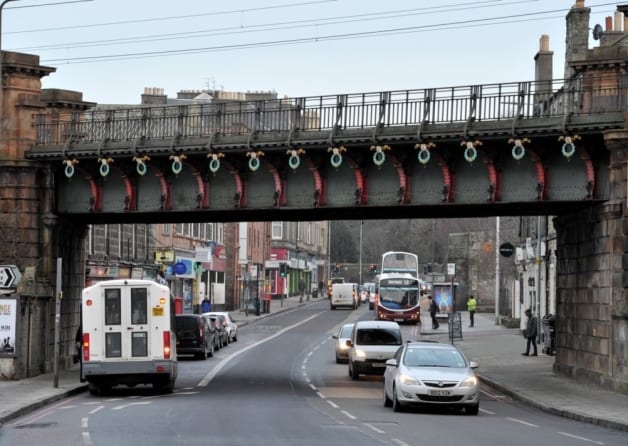 He said: "The building has got permission for it to be redeveloped so essentially we can do little but wait until the owner decides to go through with that.
"We don't have the powers that people think we do. It's all down to the private owner.
"They don't have to do what the application says and they don't have to do it straight away.
"Whether we have any powers to force the owner to take action to clear it up, I'm not sure. We would do if there were problems around public health."
Bob Lanzer, the shadow cabinet member for planning and economic development, was leader of the council for several years and knows only too well the problems pigeons can pose.
He explained: "A few years ago the council hired some sharp shooters (to kill pigeons), which didn't go down too well with the public.
"Then we started having blocks of wood put in, with pins sticking up to stop the pigeons landing on buildings.
"But I noticed recently when I was walking along with High Street close to The George Hotel, that they had figured out how to remove them and push them onto the ground.
"I was astonished to see them knock one off the building right in front of me, so don't underestimate them!"
About Pigeon Patrol:
Pigeon Patrol Products & Services is the leading manufacturer and distributor of bird deterrent (control) products in Canada. Pigeon Patrol products have solved pest bird problems in industrial, commercial, and residential settings since 2000, by using safe and humane bird deterrents with only bird and animal friendly solutions. At Pigeon Patrol, we manufacture and offer a variety of bird deterrents, ranging from Ultra-flex Bird Spikes with UV protection, Bird Netting, 4-S Gel and the best Ultrasonic and audible sound devices on the market today.
Voted Best Canadian wholesaler for Bird Deterrent products four years in a row.
Contact Info: 1- 877– 4– NO-BIRD (www.pigeonpatrol.ca)