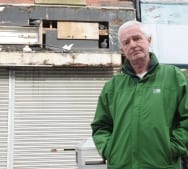 The leader of an anti-pigeon petition in Deal is appealing for help to make feeding the creatures an offence.
Sean Gabb, of Middle Street, and his neighbour Emma Lee have already called on Dover District Council to take swift and effective action to reduce the number of pigeons in Deal, by sending a petition with more than 200 signatures.
Dr Gabb attended Deal Town Council's monthly meeting on Tuesday, June 23 to ask for councillors' support in his bid.
Dr Gabb wants it to be an offence to feed pigeons
He asked them to use their powers to make it a littering offence to feed pigeons, under the district council's new Public Spaces Protection Order.
This would put Deal in line with towns such as Swansea and Bolton.
Dr Gabb was supported by chairman of the Chamber of Trade, Peter Jull, who is keen to protect the buildings in the town.
Deal businesses who have already shown their backing include Merrygardens, CJ Howe, Hawkins Menswear, No Name Shop and Dunlin & Diver.
Councillors unanimously voted in favour of having the subject on the agenda of the next full council meeting on Monday, July 20 where they will be able to discuss the issue in full and decide on any action.
Cllr Ben Bano said: "I very much support this going on our agenda and to make it meaningful I think we should invite a senior environmental officer and the portfolio holder for public health to attend the meeting."
About Pigeon Patrol:
Pigeon Patrol Products & Services is the leading manufacturer and distributor of bird deterrent (control) products in Canada. Pigeon Patrol products have solved pest bird problems in industrial, commercial, and residential settings since 2000, by using safe and humane bird deterrents with only bird and animal friendly solutions. At Pigeon Patrol, we manufacture and offer a variety of bird deterrents, ranging from Ultra-flex Bird Spikes with UV protection, Bird Netting, 4-S Gel and the best Ultrasonic and audible sound devices on the market today.
Voted Best Canadian wholesaler for Bird Deterrent products four years in a row.
Contact Info: 1- 877– 4– NO-BIRD (www.pigeonpatrol.ca)