Millom council chambers, offices and kitchen have been closed since Friday while pest control workers investigate the site in St George's Road.
Councillors vacating the office after a meeting on Friday afternoon were told the kitchen and the upstairs rooms would be locked, after pest control uncovered a significant amount of faeces in the loft space.
Cumbria county councillor for Millom, Brian Crawford, was one of the councillors instructed to take a different exit.
He has warned exposure to dried pigeon droppings can be fatal.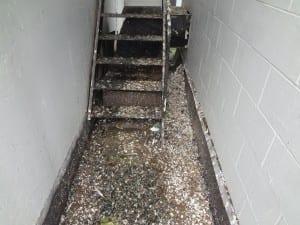 Cllr Crawford said: "There's a danger of the droppings drying and become airborne. My question is, how long have the pigeons been up there?
"People have said they had been hearing noises up there and there are staff who use the office very often. It's quite alarming as they may have been exposed to it for some time.
"There can be some quite serious diseases from pigeon droppings. You could be dead in two weeks from inhaling dried droppings.
"It's a quite serious, major issue and from my memory it's never happened before. I've been on the town council for seven years and it's the first time I've heard about pigeons being in the loft space."
A clean-up crew was due to be dispatched today to make the offices safe as Cumbria County Council said the mess poses a human health hazard.
A Cumbria County Council spokesman said yesterday: "There is an issue which has been flagged up. They have had pest control look at it at the end of last week.
"Pest control can see where the pigeons are getting in via a missing slate. The droppings are being cleared out tomorrow.
"As a precaution staff have been told not to use parts of the upstairs of the building, including the kitchen.
"The pigeon droppings are in the loft, which is being done this week because there is the potential for it to be a health hazard."
Building work to prevent further vermin infesting the loft is due to take place this week.
Tomorrow's town council meeting will take place in the Pensioners' Hall, Mainsgate Road, Millom, as a result.
About Pigeon Patrol:
Pigeon Patrol Products & Services is the leading manufacturer and distributor of bird deterrent (control) products in Canada. Pigeon Patrol products have solved pest bird problems in industrial, commercial, and residential settings since 2000, by using safe and humane bird deterrents with only bird and animal friendly solutions. At Pigeon Patrol, we manufacture and offer a variety of bird deterrents, ranging from Ultra-flex Bird Spikes with UV protection, Bird Netting, 4-S Gel and the best Ultrasonic and audible sound devices on the market today.
Voted Best Canadian wholesaler for Bird Deterrent products four years in a row.
Contact Info: 1- 877– 4– NO-BIRD (www.pigeonpatrol.ca)