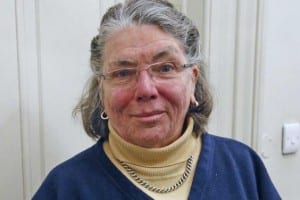 A pensioner's determination to feed the birds in her garden has made life a misery for neighbours, a court was told.
Each morning flocks of pigeons, jackdaws and seagulls descend on Brenda Hawkins' lawn and wall when she puts out her seed mixture and other food.
The birds' droppings soil her neighbours' washing hanging on the lines, their cars are continually splattered and they feel threatened by "divebombing" birds.
"There are sometimes 80-100 large birds, mainly pigeons and the noise of the jackdaws is horrendous," said Linda Jones, anti-social behaviour officer with Conwy County Borough Council.
Speaking at Llandudno magistrates' court on Saturday, she said that 74-year-old Hawkins had refused to accept advice about merely using a bird feeder which would be inaccessible to larger birds.
Hawkins, of Brookfield Drive, Rhos-on-Sea, pleaded not guilty to comply with a Community Protection Notice (CPN) served on her in June, a step which was taken after previous attempts to persuade her to reduce the nuisance had failed.
Prosecutor Julia Longworth said that CPNs were introduced last year to deal with conduct considered detrimental to the quality of life through unreasonable behaviour.
'My conscience is clear'
Linda Jones said she became aware of the problem in May 2014, and Hawkins was written to in July of that year, but she continued to feed the birds.
She ignored advice and when told in April this year she could face legal action Hawkins replied: "I'll go to jail first."
Diane Fredman, whose garden in Cambrian Drive backs onto the Hawkins' garden, said she moved into the area six years ago to enjoy retirement.
"We have not been able to do so because of the number of birds," she said.
Asked if the situation had improved since the CPN was served on Hawkins in June, she replied: "They are still there every day, the same volume and mess. It is very stressful."
Hawkins said: "I think pigeons are wonderful birds and they don't make a mess. They cannot defecate when they are flying.
"I know what I am doing; my conscience is clear."
The Bench found Hawkins guilty and chairman Sandra Ogden-Jones told her: "You have not taken any reasonable steps to comply with the notice and your actions are causing distress to others."
Hawkins was fined £200 and ordered to pay costs of £409, a criminal court charge of £520 and a surcharge of £20.
About Pigeon Patrol:
Pigeon Patrol Products & Services is the leading manufacturer and distributor of bird deterrent (control) products in Canada. Pigeon Patrol products have solved pest bird problems in industrial, commercial, and residential settings since 2000, by using safe and humane bird deterrents with only bird and animal friendly solutions. At Pigeon Patrol, we manufacture and offer a variety of bird deterrents, ranging from Ultra-flex Bird Spikes with UV protection, Bird Netting, 4-S Gel and the best Ultrasonic and audible sound devices on the market today.
Voted Best Canadian wholesaler for Bird Deterrent products four years in a row.
Contact Info: 1- 877– 4– NO-BIRD (www.pigeonpatrol.ca)