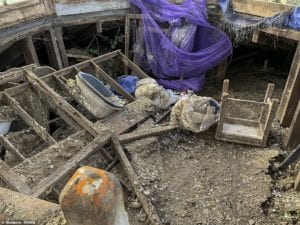 You read that correctly, bird poop can in fact lower your property value! A homeowner has fled their nest and out their four bedroom house on the market for a knock-own price because its covered in pigeon poo.
In certain areas, the poop has been said to be almost 2 feet deep.
Number 1 Coburg Villas in Ilfracombe, Devon, has been described as a large, terraced house with big rooms, outdoor space and stunning views over the Bristol channel but because of the problems it's been given a price tag of just £45,000.
Prospective buyers have been warned the project is not for the faint-hearted and it needs a lot of work. As well as the pigeon problem there are missing windows, no staircase to the first floor, fallen in ceilings and several rotten floors.
Webbers director Lee Hussell said the house was lived in until the end of last year.
He said: "The lady who lived here kept herself to herself and has now moved into rented accommodation. The property is in a very sorry state of repair but has massive potential."
"Due to the structural state of the building and the large amount of pigeon waste, which is a hazardous substance, we are not able to offer any viewings on this property."
A virtual tour of the property was filmed for marketing purposes by Panoptic Motion, which featured a man wearing a large pigeon head hovering behind a door on the third floor.
Lee added: "The people at Panoptic Motion were able to go in and provide a virtual tour – which obviously has a big surprise on the third floor.
"We knew nothing about this until we looked through it ourselves, but it's very funny and tongue-in-cheek and the more we can get people talking about this property the better."
Lee said the state of the property – as well as the surprise in the virtual tour – has led to tens of thousands of views of the property online.
He said: "It's gone properly viral – we've had people contacting us to say its been shared in Australia.
Don't let this happen to you!
About Pigeon Patrol:
Pigeon Patrol Products & Services is the leading manufacturer and distributor of bird deterrent (control) products in Canada. Pigeon Patrol products have solved pest bird problems in industrial, commercial, and residential settings since 2000, by using safe and humane bird deterrents with only bird and animal friendly solutions. At Pigeon Patrol, we manufacture and offer a variety of bird deterrents, ranging from Ultra-flex Bird Spikes with UV protection, Bird Netting, 4-S Gel and the best Ultrasonic and audible sound devices on the market today.
Voted Best Canadian wholesaler for Bird Deterrent products four years in a row.
Contact us at 1- 877– 4– NO-BIRD, (604) 585-9279, or visit our website at www.pigeonpatrol.ca