Dear Otus,
We were driving up to Fayetteville on Scenic 71 last weekend for the St. Patrick's Festival on the Square when we had to pull over at Winslow. The sky was black with pigeons.
We were stuck at Mikey's One Stop for a full half hour while they passed. The clerk said this happens every spring and sometimes 10,000 pigeons roost in the trees along the river behind the store.
I know the old proverb, "One swallow does not make a spring," but how about 100,000 pigeons?
— Ian Zephyr,
Haskell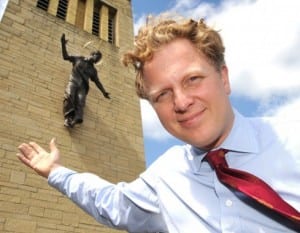 Dear Ian,
It was wholly a pleasure to hear from you. And congratulations! You and your family witnessed the annual spring migration of the famous pigeons of Mission San Zahurda de la Jorogado.
The pigeons begin arriving at the old mission in Gravette each spring in the days before what the locals jokingly call the "venal equinox." That's when the sun crosses the celestial equator on its way north along the ecliptic.
This year, spring arrived in Arkansas at 6:45 p.m. Friday. Today, therefore, is the first full day of spring and all the pigeons should have arrived from their wintering grounds by now.
There are about 2,300 folks in Gravette and by some estimates, there are about a hundred pigeons for every man, woman and child in town.
The historic mission, on Spavinaw Creek on Arkansas 59 just south of the city limits, was founded in 1542 by Father Cabeza de Gato after he split off from the Hernando de Soto expedition to minister to the Wah-Zha-Zhi Indians.
The priest's simple mud and wattle structure was expanded and modernized over the years to today's impressive brick and sandstone Greco-Roman style structure (an architectural anomaly for early Northwest Arkansas), which dates from 1842.
The mission is the most northern and eastern of the famous string of Spanish outposts that begins in south Texas with Mission San Antonio de Valero (the Alamo) and stretches beyond the Red River to Arkansas.
San Zahurda's picturesque complex of 18 buildings is on the National Register of Histrionic Places and is famous for its tart muscadine wine, muscarine sauce and, of course, its pigeons.
Each year on the first day of spring, visitors from as far away as Tulsa, Neosho, and Harrison come to San Zahurda to witness thousands of pigeons end their migration from their winter home at Mango Deck bar on Medano Beach in Cabo San Lucas, Mexico.
The birds have been performing this annual ritual since long before the mission was founded, but their numbers have greatly multiplied since the early 1900s.
Curator of the San Zahurda museum and unofficial "pigeon daddy" is Lamar Ferreira, who has held the post for the past 17 years.
"Most of our returning birds are feral pigeons," Ferreira says, "but we have a number of fancy pigeons who've joined the migration over the years and it's always a delight to welcome them back."
"We had more than 20,000 visitors last year," Ferreira says of the annual PigeonFest going on today at Pop Allum Park. "We hope to top that figure this year if the weather holds out."
Although the festival is a boon to the Benton County economy, there are those who do not welcome the influx of birds or tourists for the annual gathering.
"I guess it'd be OK if the birds stayed over on the mission," says Luther Higgins, who lives on Arkansas 72 on the way to Hiwassee. "But those rats with wings spread out all over the county and leave their droppings on every rock and tree for miles around. If you ask me, they're a dang nuisance."
Ferreira is amused by the rat reference. He hears it frequently.
"All pigeons are descended from the noble rock dove, mentioned numerous times in the Bible," he says. "They have been a benefit to mankind for centuries."
"Yeah, tell that to my cousin, Wilmar," Higgins responds. "He come down with the histoplasmosis from them birds."
"That's poppycock," Ferreira insists, pronouncing it in the original Dutch as "pappekak."
"The Association of Pigeon Veterinarians National Avian Disease Task Force affirms that the raising, keeping and exercising of pigeons and doves represents no more of a health hazard than the keeping of other communal or domestic pets."
"I'm just glad that pigs don't fly," Higgins retorts. "If they did, them yahoos over at the mission would have us knee-deep in porker poppycock. I don't know what it is they feed them birds, but I bet they have 'em hooked on that muscarine sauce."
Until next time, Kalaka reminds you to take your cameras and that muscarine sauce goes just swell with squab.
About Pigeon Patrol:
Pigeon Patrol Products & Services is the leading manufacturer and distributor of bird deterrent (control) products in Canada. Pigeon Patrol products have solved pest bird problems in industrial, commercial, and residential settings since 2000, by using safe and humane bird deterrents with only bird and animal friendly solutions. At Pigeon Patrol, we manufacture and offer a variety of bird deterrents, ranging from Ultra-flex Bird Spikes with UV protection, Bird Netting, 4-S Gel and the best Ultrasonic and audible sound devices on the market today.
Voted Best Canadian wholesaler for Bird Deterrent products four years in a row.
Contact Info: 1- 877– 4– NO-BIRD (www.pigeonpatrol.ca)