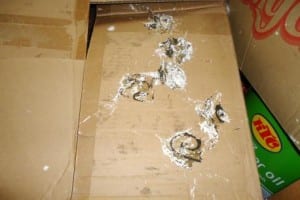 A TONNE of food must be destroyed — because it was being packaged in a warehouse infested with pigeons.
Bolton Council applied for a food condemnation order at Bolton Magistrates Court after environmental health officials found the food and packaging belonging to Barkat Food Store Bolton Ltd covered with pigeon droppings, which they said caused "substantial contamination of food".
Catherine Waudby, on behalf of Bolton Council, told District Judge James Prowse that the contamination, which is a danger to public health, had come to light on March 5 during a routine environmental health inspection at a warehouse The premises were supposed to be used for storage, but inspectors found Asian dried foodstuffs, such as rice, popcorn, nuts and spices, being packaged there, with droppings on the food and plastic wrappings and no hand washing facilities available.
The tonne of food was seized and yesterday (TUE), at Bolton Magistrates Court, the judge ordered it be dyed and disposed of in bins.
A Bolton Council spokesman said: "We take breaches of food hygiene very seriously and take prompt and decisive action to protect consumers whose health could be put at risk.
About Pigeon Patrol:
Pigeon Patrol Products & Services is the leading manufacturer and distributor of bird deterrent (control) products in Canada. Pigeon Patrol products have solved pest bird problems in industrial, commercial, and residential settings since 2000, by using safe and humane bird deterrents with only bird and animal friendly solutions. At Pigeon Patrol, we manufacture and offer a variety of bird deterrents, ranging from Ultra-flex Bird Spikes with UV protection, Bird Netting, 4-S Gel and the best Ultrasonic and audible sound devices on the market today.
Voted Best Canadian wholesaler for Bird Deterrent products four years in a row.
Contact Info: 1- 877– 4– NO-BIRD (www.pigeonpatrol.ca)  Now shipping World Wide.