Why You Should Use Bird Spikes
You have a bird problem and want to get rid of them. Pigeon Patrol has got you covered with our Bird Spikes. Why? Keep on reading to find out why you should use bird spikes.
What 
A bird control spike, is an object consisting of long, needle-like rods used for bird control. They come in a variety of styles and sizes but they work in the same way. Bird control spikes can be attached to building ledges, street lighting, roofs, commercial signage & anywhere else birds can possibly land on to prevent wild or feral birds from perching or roosting.
Why
These spikes make it difficult if not impossible for the bird to land or walk in the area with spikes. They will bring to harm to the bird but will make them uncomfortable that they will have to leave the area. These spikes have glue tracks and screw holes, the spikes can safely be attached to almost any surface.        Source
Pigeon Patrol 
At Pigeon Patrol, we offer stainless steel bird spikes. Steel spikes offer unique benefits. Not only are they less visible and blend in with a building's architecture better than plastic spikes, steel spikes also come with a longer guarantee and are able to withstand direct sunlight and higher temperatures Ultra-flex Bird Spikes, prevents birds from landing or roosting on rooftops, ledges, and other surfaces. It comes in either a 5 inch or 8 inch spread and is virtually invisible when installed. The spikes come in 2-foot lengths and measures 4½ inches in height.
Base made with UV protected recyclable polycarbonate.

Spikes made with stainless steel,




4½ inches in height.

Ultra flexible for pipes, beams, signs and light poles."

Install with screws, caulking or cable ties

Spikes come in 2 ft sections with a 10-year warranty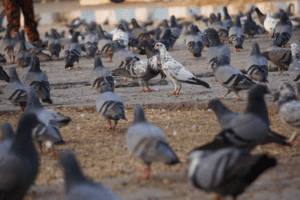 Contact Us For Any Questions!
(604) 585-9279
About Pigeon Patrol:
Pigeon Patrol Products & Services is the leading manufacturer and distributor of bird deterrent (control) products in Canada. Pigeon Patrol products have solved pest bird problems in industrial, commercial, and residential settings since 2000, by using safe and humane bird deterrents with only bird and animal friendly solutions. At Pigeon Patrol, we manufacture and offer a variety of bird deterrents, ranging from Ultra-flex Bird Spikes with UV protection, Bird Netting, 4-S Gel and the best Ultrasonic and audible sound devices on the market today.
Contact us at 1- 877– 4– NO-BIRD, (604) 585-9279 or visit our website at www.pigeonpatrol.ca
Bird Gone, Pigeon Gone, Seagull Gone, Pigeon problems, 1-877-4NO-BIRD, 4-S Gel, Bird Control, Pigeon Control, bird repellent,, sonic bird repellent, stainless steel , bird spikes Vancouver, Ultra Sonic Bird Control, Bird Netting, Canada bird  deterrents, Pigeon Pests, B Gone Pigeon, Pigeon Patrol, pest controller, pest control operator, pest control technician, Pigeon Control Products, humane pigeon, pigeon deterrents, pigeon traps, Pigeon repellents, Sound & Laser Deterrents, wildlife control, raccoon, skunk, squirrel deterrent, De-Fence Spikes, Dragons Den, Canada bird spikes, Canada pigeon, pigeon control, pigeon patrol, pigeon. Kill pigeons, crow, starling, Pigeon Habitat, Pigeon identifications,