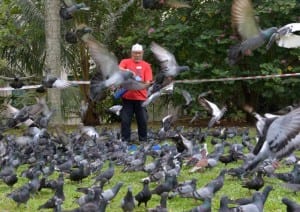 A war over some of New York's smallest and most divisive residents has been brewing for a while now. In the latest skirmish, a 38-year-old man named Luis Rosado was arrested last Wednesday for illegally catching pigeons on Wyckoff Avenue in Bushwick, Brooklyn.
Lieutenant John Grimpel of the NYPD told VICE that Rosado was arrested under the Agriculture and Markets Law relating to cruelty to animals. The law makes it a misdemeanor to carry an animal "in a cruel manner," and in punishable by jail time for up to a year or a fine of $1,000—or both.
But Grimple was a bit mystified by my interest in the birds: Since when did pigeons become a bigger news story than people? he asked me.
As a matter of fact, bizarre pigeon happenings are nothing new in New York. In Greenwich Village's Washington Square Park, activists and people who feed birds are on a warpath over their beloved avian friends. Last Monday, Washington Square Park Blog reported that someone had pulled up to the western side of the park, thrown a net on the ground, and scattered birdseed on top of it. According to witnesses, hundreds of pigeons were netted and stuffed into the trunk of a car, which drove off before anyone could catch its plates.
The NYPD told VICE that it has opened an investigation and found no evidence that someone stole pigeons from the park. But the local birders at Washington Square Park say they've seen a noticeable drop in the number of pigeons they see there.
"It sucks," said Tina Trachtenburg, an animal activist who's been feeding the birds in the park for 55 years. "Its really, really heartbreaking."
About Pigeon Patrol:
Pigeon Patrol Products & Services is the leading manufacturer and distributor of bird deterrent (control) products in Canada. Pigeon Patrol products have solved pest bird problems in industrial, commercial, and residential settings since 2000, by using safe and humane bird deterrents with only bird and animal friendly solutions. At Pigeon Patrol, we manufacture and offer a variety of bird deterrents, ranging from Ultra-flex Bird Spikes with UV protection, Bird Netting, 4-S Gel and the best Ultrasonic and audible sound devices on the market today.
Voted Best Canadian wholesaler for Bird Deterrent products four years in a row.
Contact Info: 1- 877– 4– NO-BIRD (www.pigeonpatrol.ca)