Birds do not have teeth. Without teeth, a bird cannot chew its food down to bits in its mouth like humans do. As detailed in the textbook Ornithology by Frank B. Gill, birds must instead rely on the muscular stomach-like pouch called the gizzard to crush down their food. Many species swallow stones and grit to aid in digestion. These stones remain in the gizzard and crush the food as the gizzard contracts. From a functional perspective, gizzard stones in birds are the equivalent of teeth in humans. When a gizzard stone becomes too smooth to do its job, the bird regurgitates the stone or passes the stone down and out through its digestive tract. Species that do not swallow stones are able to use the sheer muscle power of their gizzards to grind down their food. Birds do not have teeth because the teeth and the jaw bone to support them are too heavy for efficient flight. Many birds have a series of notches in their beak or spikes on the inside of their beak or tongue. These notches and spikes are not true teeth as they are not used to crush down their food. Instead, these features are used to get a good grip on the prey so that it does not escape. In ancient evolutionary history, there were birds with true teeth. Known as odontornithes, these animals are no longer alive today.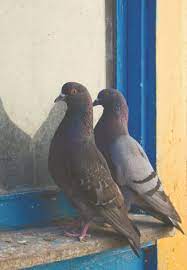 Pigeon Patrol Products & Services is the leading manufacturer and distributor of bird deterrent (control) products in Canada. Pigeon Patrol products have solved pest bird problems in industrial, commercial, and residential settings since 2000, by using safe and humane bird deterrents with only bird and animal friendly solutions. At Pigeon Patrol, we manufacture and offer a variety of bird deterrents, ranging from Ultra-flex Bird Spikes with UV protection, Bird Netting, 4-S Bird Gel and the best Ultrasonic and audible sound devices on the market today.
Voted Best Canadian wholesaler for Bird Deterrent products ten years in a row.
Contact us at 1- 877– 4– NO-BIRD, (604) 585-9279 or visit our website at www.pigeonpatrol.ca
Pigeon/Pigeon Patrol / Pigeons Roosting / Vancouver Pigeon Control /Bird Spikes / Bird Control / Bird Deterrent / Pigeon Deterrent?  Surrey Pigeon Control / Pest /Seagull deterrent / Vancouver Pigeon Blog / Birds Inside Home / Pigeons in the cities / Ice Pigeons/ What to do about pigeons/ sparrows , Damage by Sparrows, How To Keep Raccoons Away,  Why Are Raccoons Considered Pests/ De-fence / Pigeon Nesting/ Bird Droppings / Pigeon Dropping/ woodpecker control/ Professional Bird Control Company/ Keep The Birds Away/ Birds/rats/ seagull/pigeon/woodpecker/ dove/sparrow/pidgeon control/pidgeon problem/ pidgeon control/flying rats/ pigeon Problems/ bird netting/bird gel/bird spray/bird nails/ bird guard