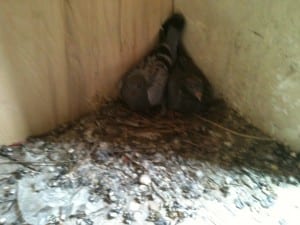 The city of North Platte is evaluating how to cope with feral pigeons that call the city home.
City Administrator Jim Hawks said that during the budget process for the 2013-14 fiscal year, he decided not to opt in to a United States Department of Agriculture program the city has utilized several times. Instead, he asked Police Chief Mike Swain to evaluate the city's process.
"We did contract with [the USDA], and we felt for the money spent, there wasn't much of a noticeable difference," Swain said. "Our hope is we can find another method."
Thus far, Swain said his department hasn't found the answer.
"We can't open a hunting limit and we can't make it possible for everyone to use their guns. It has to be within our ordinances. Right now, I'm still researching," he said. "We're hoping to find something, because the pigeon population certainly isn't going down."
In the past, the city and Lincoln County opted in to the USDA's animal damage control program, which helps counties manage animals that can cause problems — like pigeons, coyotes and beavers.
Solutions are not easy to come by for city
About Pigeon Patrol:
Pigeon Patrol Products & Services is the leading manufacturer and distributor of bird deterrent (control) products in Canada. Pigeon Patrol products have solved pest bird problems in industrial, commercial, and residential settings since 2000, by using safe and humane bird deterrents with only bird and animal friendly solutions. At Pigeon Patrol, we manufacture and offer a variety of bird deterrents, ranging from Ultra-flex Bird Spikes with UV protection, Bird Netting, 4-S Gel and the best Ultrasonic and audible sound devices on the market today.
Voted Best Canadian wholesaler for Bird Deterrent products four years in a row.
Contact Info: 1- 877– 4– NO-BIRD (www.pigeonpatrol.ca)  Now shipping World Wide.