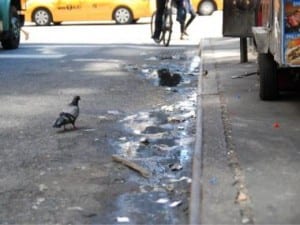 About 20 pigeons were killed by the driver of a blue van in the parking lot of the Vallejo public boat launch Sunday afternoon, in what Vallejo police say appears to be a deliberate act of animal cruelty.
A woman who regularly feeds birds had started feeding pigeons in the area, near the former Brinkman's Marine business, when a van parked in the lot drove through the flock of birds, killing at least 20.
Vallejo police Lt. Kevin Bartlett stated that due to the suddenness of the action, they have no suspect description other than that of the van.
Local bird rescue and animal control agencies have been contacted for custody and treatment of about five surviving birds.
About Pigeon Patrol:
Pigeon Patrol Products & Services is the leading manufacturer and distributor of bird deterrent (control) products in Canada. Pigeon Patrol products have solved pest bird problems in industrial, commercial, and residential settings since 2000, by using safe and humane bird deterrents with only bird and animal friendly solutions. At Pigeon Patrol, we manufacture and offer a variety of bird deterrents, ranging from Ultra-flex Bird Spikes with UV protection, Bird Netting, 4-S Gel and the best Ultrasonic and audible sound devices on the market today.
Voted Best Canadian wholesaler for Bird Deterrent products four years in a row.
Contact Info: 1- 877– 4– NO-BIRD (www.pigeonpatrol.ca)