The world is urbanising rapidly, and it is predicted that by 2050, 66% of the global human population will be living in urban areas. Urbanisation is characterised by land-use changes such as increased residential housing, business development and transport infrastructure, resulting in habitat loss and fragmentation. Over the past two decades, interest has grown in how urbanisation influences fundamental aspects of avian biology such as life-history strategies, survival, breeding performance, behaviour and individual health. Here, we review current knowledge on how urbanisation influences the nesting biology of birds, which determines important fitness-associated processes such as nest predation and community assembly. We identify three major research areas: (i) nest sites of birds in urban areas, (ii) the composition of their nests, and (iii) how these aspects of their nesting biology influence their persistence (and therefore conservation efforts) in urban areas. We show that birds inhabiting urban areas nest in a wide variety of locations, some beneficial through exploitation of otherwise relatively empty avian ecological niches, but others detrimental when birds breed in ecological traps. We describe urban-associated changes in nesting materials such as plastic and cigarette butts, and discuss several functional hypotheses that propose the adaptive value and potential costs of this new nesting strategy. Urban areas provide a relatively new habitat in which to conserve birds, and we show that nestboxes and other artificial nest sites can be used successfully to conserve some, but not all, bird species. Finally, we identify those subject areas that warrant further research attention in the hope of advancing our understanding of the nesting biology of birds in urban areas.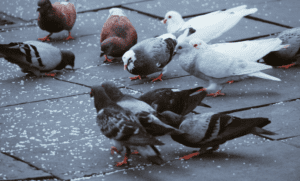 Pigeon Patrol Products & Services is the leading manufacturer and distributor of bird deterrent (control) products in Canada. Pigeon Patrol products have solved pest bird problems in industrial, commercial, and residential settings since 2000, by using safe and humane bird deterrents with only bird and animal friendly solutions. At Pigeon Patrol, we manufacture and offer a variety of bird deterrents, ranging from Ultra-flex Bird Spikes with UV protection, Bird Netting, 4-S Bird Gel and the best Ultrasonic and audible sound devices on the market today.
Voted Best Canadian wholesaler for Bird Deterrent products ten years in a row.
Contact us at 1- 877– 4– NO-BIRD, (604) 585-9279 or visit our website at www.pigeonpatrol.ca
Pigeon/Pigeon Patrol / Pigeons Roosting / Vancouver Pigeon Control /Bird Spikes / Bird Control / Bird Deterrent / Pigeon Deterrent?  Surrey Pigeon Control / Pest /Seagull deterrent / Vancouver Pigeon Blog / Birds Inside Home / Pigeons in the cities / Ice Pigeons/ What to do about pigeons/ sparrows , Damage by Sparrows, How To Keep Raccoons Away,  Why Are Raccoons Considered Pests/ De-fence / Pigeon Nesting/ Bird Droppings / Pigeon Dropping/ woodpecker control/ Professional Bird Control Company/ Keep The Birds Away/ Birds/rats/ seagull/pigeon/woodpecker/ dove/sparrow/pidgeon control/pidgeon problem/ pidgeon control/flying rats/ pigeon Problems/ bird netting/bird gel/bird spray/bird nails/ bird guard